We went on a journey this year to discover more of America's best food. From the Grilling Issue and the Travel Issue to Umami Barbecue and Spice Route Vol. 2. Here is a look at some of the recipes, themes and talented makers we uncovered this year (so far).  
Spice Route Vol. 2
To more jaded eyes, globalized cuisine might look like a river of Golden Arches stretching Vegas to Varanasi, but those waters flow both ways — it means a Big Mac by the Ganges, but it also means being able to find a damn fine curry on the Strip. Time was, folks would kill for a peppercorn, and who could blame those stoic Middle Ages sufferers, choking down their stale bread and warm beer? Fleets were launched, caravans dispatched, and today, our spice racks runneth over, and we don't have to saddle up the camel train to resupply. Still, as easy as spices are to find — once, each clove took a months-long, seven-thousand-mile trip from Indonesian forests to British plates; now it's floating in your corner-store autumnal latte — the best still come from the farthest corners. Rarity remains, and it makes the richest seasoning. So we scoured the markets to bring you the best, and spiciest, fare we could find. The world might have gotten smaller, but thankfully, if you shop right, it can still taste pretty big.
Turkey Meatball Tostadas With Tomatillo Salsa Recipe Here
Tommy Tomatillo Salsa // Karma Sauce Company // Rochester, NY
Rochester. Home of the Garbage Plate and one of the preeminent sauce and salsa makers in the country. Not just our words, Karma Sauce Co. took home a staggering 24 awards from Zestfest (think Oscars for Hot Sauce). This seasonal salsa will wake up a dish of scrambled eggs, take your hot dog to new heights or make shrimp tacos sing. Tommy Tomatillo is made with 100% estate-grown heirloom chiles, tomatillos and tomatoes. Need more Karma? don't sleep on their Funken Hot, Chipotle Mustard or Cherry Bomb Sauce.
Maker Take:
"Karma Sauce's founder and sauce expert Gene Olczak has expertly designed each recipe so that every bottle of Karma Sauce is unlike anything you've ever tasted. So if you're tired of forgettable meals and want to return to meals that matter, you're one step closer to finding the secret sauce that gets you there."
We don't squawk "Award Winning" for nothing, here is some hardware for Tommy Tomatillo Salsa:
2016 Fiery Food Challenge Winner — Salsa: Medium
2016 Fiery Food Challenge Winner — Best New Product
2018 Fiery Food Challenge Winner — Salsa: Verde/Tomatillo
2019 Scovie Winner — Salsa: Verde
2020 Fiery Food Challenge Winner — Salsa: Verde/Tomatillo
Recipe 
Turkey Meatball Tostadas With Tomatillo Salsa Recipe Here
Yellowbird Serrano Chicken Wings Recipe Here
Serrano Hot Sauce //
Yellowbird // Austin, TX
Bad hot sauce is good for little else than masking bland burgers or, if your tastes run masochistic, stripping paint. You either drench, or use a single drop. Good hot sauce, though, is transcendent. It heightens instead of hurts: Its spice sharpens senses, so flavor burns all the brighter. Hellish heat can feel like heaven too. Just think of the sizzle of sitting a little too close to the campfire on a cold night. And that's Yellowbird. Perfect anywhere, mind-blowing on a BLT: Drizzle on the pork before you bake (350 for 15 minutes), top with veggies, serve on crusty bread, and take comfort in the flame.
Scoville Heat Unit Rating (SHU) 1,600–6,160
4 Quick Uses:
Spice up pulled pork.
Heat up huevos (add to scrambled eggs).
Yellowbird Serrano Chicken Wings

 

Recipe Here
Dash it in a drink like this Yellowbird Michelada

 

Recipe Here
5. Candy bacon in Serrano sauce like this Candied Yellowbird Bacon Clubhouse Recipe Here
Carne Seca Limon Con Chile // People's Choice Jerky // LA, CA
From an unlikely *ranchería* (downtown LA) but a no-surprises pedigree (a four-generation Angeleno butcher dynasty) comes this extra-traditional Carne Seca. Whole cuts, marinated, slow-cooked (and we mean sloooow, *hombre* — five hours at least), gets transformed into a cure-all, perfect for snacking on or stirring into any dish for a stampede of flavor.
Meet Mark. He's the 3rd Generation owner here at People's Choice Beef Jerky
Recipes?
Go Behind The Scenes At People's Choice:
Chai Spice Chickpea Butter // Field Trip Snacks // Brooklyn, NY 
Roasted Cauliflower With Chai Spiced Chickpea Butter Dressing Recipe Here
In the last 8 years, Mantry has been on a tireless search to find all great food innovations well before trends hit the mainstream. Before avocado toast and chia seeds flooded the market, you could trace their epicenter to a small cafe in Sydney, Australia. Well, Field Trip Snacks has launched a new frontier in spreadable superfoods. Harnessing the health benefits of chickpeas with the convenience of PB, Field Trip is going all Elon Musk innovator mode on nut butters. Even the flavors are creative, this Chai Spice gets inspiration from the ubiquitous cups of fragrant tea served across India. Spread on toast, scoop into an almond milk and banana smoothie or sub it for tahini for a killer sauce to put on grilled meats or roast vegetables. Spread the word, Chickpea Butter is here to stay. 
Recipe:
Roasted Cauliflower With Chai Spiced Chickpea Butter Dressing
Mexican Chocolate
 

Cha-Chas

 

// Lark Fine Foods // Essex, MA

These Essex bakers call their decadent wares "cookies for grownups," and while we'll raise a Oreo-crumb-dusted finger in protest that adults can't binge like the best sugar-mad kids, we must agree that while storebought sweets work in a pinch, real cookie comfort is rarer. It comes, if not from mom's homemade, than from the next best thing: these cravable cookies from Lark. Good cane sugar for your sweet tooth, Mexican chocolate and a hit of cayenne to kick things up for yes, your grown-up tastes. They go as good with a beer as they do in a blender with ice cream and milk for a cookie shake. 
Mocha Bar // LetterPress Chocolate // Los Angeles, CA
We've spent the past 8 years scouring high and low, searching for the most delicious chocolate in these 50 states and Letterpress is right up there with the cocoa kings. Small-Batch? Check. Bean to bar? Check. Cool collaborations with other badass artisan makers? You betcha. Case in point, Alibi Roasters teaming up with these LA legends to produce the perfect bar for people who love coffee or chocolate or both. It's worth mentioning we are not the only super fans… 
Press:
LA Times digs it, Eater loves Letterpress and owner David Menkes and team has won a coveted Good Food Award. 
From The Maker:
"Unlike most other chocolate companies, we've meticulously roasted and stone-ground our cacao beans ourselves and brewed Alibi's coffee with cocoa butter at just the right extraction temperature, infusing the coffee rather than grinding the coffee beans in. The result is much more balanced, and honestly the best coffee bar we've yet made."


Travel Issue
Stamp your passport the globe-trotting gourmand way, with sauce stains and coffee rings, one plate at a time.
Black Garlic Biltong // Righteous Felon // West Chester, PA
A staple of Indigenous South African peoples such as the Khoikhoi, Biltong was developed to preserve meat without refrigeration. Long active days, meant a lean protein source was imperative and if this snack can fuel a wild game hunt in sub saharan Africa our guess is it's not a bad 3pm hunger suppressor at the office. Until recently, it was reasonably difficult to attain stateside. Eat it out of the bag or treat Biltong like prosciutto in an salad or on a cheese platter. 
Biltong Recipe:
Biltong Fried Rice Recipe
Frozen Vodka Tonic Recipe Here
True Tonic Syrup // Pratt Standard Cocktail Company // Washington, DC
"My Family's Standard For Food That I Grew Up With Is What This Company Is About — Authenticity, Flavor, And Connection."
-Tory Pratt, Founder
Spiced Orange Margarita Recipe Here
Thankfully, Tory Pratt has high standards for the quality of her craft cocktail syrups.  Pratt Standard's tonic syrup elevates your home cocktails in seconds and offers up an open-ended itinerary of recipes.  Want to be transported to an Italian cafe? Try the Negronic. Or polish off a G&T as the British Navy would...
A Bit Of Travel History:
"The Gin & Tonic was introduced by the army of the British East India Company in India. In India and other tropical regions, malaria was a persistent problem. In the 1700s Scottish doctor George Cleghorn studied how quinine, a traditional cure for malaria,[14] could be used to prevent the disease.[15] The quinine was drunk in tonic water, however the bitter taste was unpleasant.[15] British officers in India in the early 19th century took to adding a mixture of water, sugar, lime and gin to the quinine in order to make the drink more palatable, thus gin and tonic was born" 
4 Quick Pratt Standard Cocktails Recipes:
Coconut Curry Noodle Bowl With Pork Recipe Here
Indian Curry Paste // Entube // Los Angeles, CA
What makes a classic curry? A dash of this, a pinch of that, a secret ad hoc mix of turmeric and chili, earthy cumin and sweet fennel, slow-cooked for hours, long to make and hard to find. What makes it otherworldly? The unexpected citrus spark of acerola berries and a travel-friendly package to bring its exotic mix of flavors anywhere you go. Forget waiting all day stove-side for the spices to meld just right; Entube is a squeeze away. And a perfect autumn meal is as simple as a quick sauté of sauce, onions, olive oil, and coconut milk, simmered with mussels and served with lime and cilantro.
2 Easy Entube Recipes:
Coconut Curry Mussels Recipe Here
Roasted Eggplant With BasBaas Sauce Recipe Here
Basbaas // Coconut Cilantro Chutney // Hudson Valley, NY
Sweet heat, with unexpected fruit undertones. It's a go-to addition to spice up most meals in Somalia. Spread it on toast in the morning, use it as a finishing sauce on chicken, or use it as a base for salad dressing. This sauce is vegan, gluten free, non-gmo, organic ingredients when possible, no added sugar.
5 Fast Uses
Basbaas Wings
Base for Salad Dressing
Basbaas + Grilled Meat (Try Mixing With Yoghurt) 
Kick up a Hot Dog or Burger
Basbaas Recipes:
Roasted Eggplant With BasBaas Sauce
Smoky Hummus With BasBaas Sauce
Hawa, Basbaas Owner 

Warm Salad of Roasted Squash, Prosciutto and Hot Honey Recipe Here
Barrel Aged Hot Honey // Red Clay Hot Sauce // Charleston, SC
Take a road trip down the historic highways of the South and you'll dive into buttery grits and shrimp, juicy chicken and waffles and barbecue that may just change your life. Well, Red Clay Hot Honey tastes good on all that stuff and pretty much anything you drizzle it on. The secret? Sweet heat. A partnership that upgrades everything from a mundane slice of cheese on a cracker to a ball of vanilla ice cream. 
5 Fast Uses
Breakfast Biscuit
Granola
Roasted Carrots
Ice Cream
Fried Chicken
Hot Honey Recipes:
Warm Salad of Roasted Squash, Prosciutto and Hot Honey


Coffee Chocolate // Mast Chocolate // Mount Kisco, NY
Coffee. From the most back of back alleys in Istanbul to curbside in Stockholm, almost anywhere you travel these days, coffee is being sipped.  Mast Brothers harness the subtle aromatics of coffee with the world's other obsession, chocolate, to create a bar that offers the perfect escape.  We like it with a high noon cup of joe or as a midnight snack.
Bison Kebabs With Red Wine Chocolate Glaze Recipe Here
Mast Chocolate Recipe:
Bison Kebabs With Red Wine Chocolate Glaze
Dispatches From The Road:
Munnar, Western Ghats Mountain Range, India
"There's about 7 places in Kerala that serve booze but 7,000,000 roadside stands that will stud a nice cup of tea with local cardamom and ginger."
-Reggie Milligan, Co-Founder, Mantry.com
Grilling Issue // Smoke
This month we present a crate that celebrates the society of the smoker, the brotherhood of barbecue, the far-flung family of food and fire. Light up, and dig in.

Sweet Smoky Tangy Barbecue Sauce // Bourbon Barrel Foods // Louisville, KY
A pioneer of all things bourbon barrel aged, infused and smoked, founder Matt Jamie started with Blue Grass Soy Sauce (the only microbrewed soy sauce made in the United States) and has expanded to a mini-empire that includes everything from spices to sorghum syrup.  We love this barbecue sauce because it layers in many of BBF's signature Bourbon Smoked and aged items like Barrel Aged Worcestershire Sauce to Smoked Pepper. 
From The Maker:
"Seasoned with Bourbon Smoked Salt, Pepper, Paprika and Bourbon Barrel Aged Worcestershire Sauce, our Barbecue Sauce is packed with tons of flavor.  This all-natural sauce is sweetened with pure cane Kentucky sorghum, adding a distinct sweet and tangy flavor. Pair this sauce with everything from burgers to chicken to pork!"
Fast 5 Uses:
Brush On Grilled Corn
Douse Over Nachos
Pulled Chicken/Pork Sandwich
Dipping Sauce for anything from Yam Fries to Pizza (Also replacing tomato sauce on pizza).
Slather On A Grilled Cheese
Recipes: 
Bourbon Barrel Barbecued Chicken Legs
Bourbon Barbecue Yakitori With Togarashi Spice
Barbecued Steelhead Lettuce Wraps
Bourbon Barbecue Yakitori With Togarashi Spice Recipe Here

Barbecued Steelhead Lettuce Wraps With Bourbon Smoked Togarashi Pickles Recipe Here
Bourbon Smoked Togarashi // Bourbon Barrel Foods // Louisville, KY

In the global spice power rankings, people talk about India's Garam Masala or Middle Eastern Za'atar but Togarashi deserves to be up there with the big names.  Hailing from Japan, traditionally the mixture includes the likes of orange peel and sesame seeds but Matt at BBF gives it a southern spin..
From The Maker:
"A traditional Japanese seven spice blend with an added "bourbon barrel" twist! We begin with a foundation of Bourbon Smoked Pepper and add Bourbon Smoked Sesame Seeds along with nori, mustard and poppy seeds to create an exotic flavor experience with a hint of subtle smokiness! Bourbon Smoked Togarashi is delicious on all meats, seafood, and vegetables. Check out our "Recipes" tab to try some of our favorite and creative ways to use this peppery blend, including our beloved Togarashi Caramel Corn!"
Fast 5 Uses:
Togarashi Dusted Popcorn
Togarashi Fries
Togarashi On Fish (Like Tuna or Snapper)
Add To Avacados (Like Guacamole or Toast)
Recipes:
Smoky Mac & Cheese With Chipotle, Togarashi & Bacon
Hott Smoke // NW Elixirs // Portland, OR
A good bottle of hot sauce is like an old friend, always there when you need it and ok passing along the credit.  Portland Chef Andrew Garret makes some of the best sauce in America and his Hott Smoke hits food with chipotle backbone, smokey garlic and onions and enough natural sweetness to elevate anything coming off a grill. 

Smoky Chipotle Chili Dogs Recipe Here
From The Maker:
"This is the be all chipotle based sauce. With its smoked onions, garlic, and ancho chilies this sauce is like a condensed BBQ sauce without the refined sugars, gums and extracts. As you cook with this sauce it just gets better. We recommend this sauce with everything. It's perfect for grilling chicken, pork, steak, shrimp, vegan meat substitutes, and roasting meats."
5 Fast Uses:
Chipotle Mayo

Grilled Thick Cut Chipotle Bacon
Chipotle Caramelized Onions
Chipotle Butter For Steaks 
Kick Up A Bloody Mary
Recipes:
Maple Buffalo Bacon // Savage Jerky Co. // Buford, GA
When it comes to road eats, while a rare few gas stations are diamonds in the oil, so to speak (think great hole in the wall taco stands like Fuel City in Dallas or De Amigos in Pescadero), most, of course, are food deserts. Stomach rumbling, gas tank low, a fluorescent oasis beckons — while the car drinks its fill, you muse over hypnotic slushie machines and mystery tubs of no-name jerky. Their road trip grumbles unsated, the Georgia buddies behind Savage decided to make their own. Their Maple Buffalo Bacon, good enough to gnaw as is, but save a slice for your end-of-the-road drink, to replace your bloody mary's celery stalk with a touch of smoky swagger.
Grilled Cabbage Wedge Salad With Bacon & Smoky Yogurt Dressing Recipe Here
Smoked Butterscotch Caramels // Shotwell Candy Co. // Memphis, TN

Named after the company founder's great-grandpa Shot, who kept his general store's candy barrels brimming with caramels for sugar-toothed local kids, and perfected after months of simmering and stirring dozens of test batches in tarnished brass pots, these caramels are handmade the old fashioned way— right down to the classic butterscotch flavors and a pinch of alder wood smoked salt for a slight campfire smoked finish.

Shotwell Caramels + Bacon Jerky + Ice Cream
Shotwell Caramel Cookies Recipe Here
Smoky Salami // Rustix // Norwalk, IA
Protein snack sticks from the premier producer of American charcuterie! Semi-dry, lightly-cured, and made from pork raised humanely without antibiotics. Rustix are perfect for on-the-go snacking and loaded with high quality energy, with 12 grams of protein and 0 grams sugar per serving. Whether hiking, biking, or running around town, these snacks are a hungry human's best friend.
"BBQ" Bloody Mary Recipe Here
From The Maker: 
Rustix were born out of our desire to create a delicious snack from high quality humanely raised pork, as well as a commitment to minimizing food waste. We use meat from the pork shank, a lean cut at the end of the ham that does not lend itself to traditional long curing. Salami sticks were the perfect solution for making use of this under-utilized protein rich cut and we spent months perfecting the spicing and unique curing process. We're really proud of the result!"

The Taco Issue

While every culture has its perfect portable food — from meats on a stick to meats in a handpie to the roast beef sandwich (invented, legend goes, to hold in one hand while playing cards) — our vote for the best is the humble taco, made to eat on the street. Juices dribbling under a neon glare, a brown bag beer in one hand, it almost tastes better this way. And the best, of course, are the simplest — meat, tortilla, toppings. But simplicity deceives — that perfect marriage of meat and heat, smoke and spice, is a hard target to hit. All the more reason to bow before the talented taco trucks. There must be some magic in the rhythm of the road — or is it the diesel fumes? Save for cooking in the backseat of your jeep, this is as close as you'll get to the real thing. What to cook? We've handled that. How to eat it? That's up to you — but note our crate's conspicuous lack of fancy placesetting.
Shredded Chicken Tacos Recipe Here
Mexican Taco Spice // Spicemode // Northbrook, IL
Spice Mode's founder Amar knows a thing or to about street food, previously owning a food truck in chi-town.  He has developed a serious library of expertly crafted global falvor hits from Bayou Cajun and Smoky Tandor spice mixes to Fiery Vindaloo cooking sauce.  His Taco Spice? a little heat, a touch of sweet and deep notes of chiles and cocoa.  This spice will make any taco nice, we dig it for slow cooked pork strewn over nachos, shredded chicken tacos and dusted on any piece of fish.  
From The Maker:
"Savor characteristic street food flavor. Amplify the spice factor of Taco Tuesday! This blend contains three piquant chiles (New Mexico, Ancho, and Chipotle) to light up your meat dishes as well as a distinguished marriage between earthy cumin, rich cocoa and flavorful oregano.
Coming from the characteristic tradition of Mexican street food, this powerful spice combination will bring both heat and harmony to anything you'd put on or eat with a tortilla. It's a savory experience your taste buds will never forget!"
Pulled Pork Nachos Recipe Here
Taco Butter Roasted Halibut Recipe Here
Fresca Salsa // La Fundidora // Brooklyn, NY
Salsa is a grill-side staple these days, but those neon red jars of store-bought extra-chunky are as authentic as your shrink-wrapped buns are bakery-fresh. Grow up, hombre. Simple and fresh and bursting with flavors bright as beachside sun, La Fundadora makes the real deal: spicy serranos and tangy tomatillos, hot as sand, cooling as the waves. Give your fresh-grilled fish the dressing it deserves.
Fast 5 Uses:
Douse On Fish Tacos
Slather On Roast Sweet Potato Tacos
Toss Grilled Shrimp In It 
Add A Scoop Into A Bloody Mary
Slather On Grilled Chicken
Stewed White Bean, Pork & Kale Tacos Recipe Here
Recipes: 
Char Grilled Seafood with Salsa Verde
Char Grilled Seafood with Salsa Verde Recipe Here
"Turf & Turf" Tacos With Honey Glazed Pork Belly & Shredded Sesame Teriyaki Jerky Recipe Here


Big Bang Shrimp Tacos Recipe Here 

Honey Glaze Sauce // KPOP Foods // Los Angeles, CA
We're big believers the world needs to experience more Korean flavors from Kim Chi to Gochujang to Galbi and Black Garlic. This sauce may have foreign origins but it is a go-to partner for any American classic whether it's pork belly tacos, fried chicken, chicken burgers or ribs. You're just one squeeze from helping a dish K Pop off.
From The Maker:
The Dream Team Behind KPOP Foods…
AWARD WINNING FORMULA

 

- Created by successful restaurateur, Food Network's Great Food Truck Race and Cutthroat Kitchen champion, Chef Chris Oh.
SWEET & SAVORY FINGER LICKING LIP SMACKING SATISFACTION

 

- Blending honey, gochujang, jalapeños, garlic, and lime, this sauce is delightfully sweet and subtly savory with a slight kick. Guaranteed to satisfy both your sweet and savory cravings!
KOREAN FRIED CHICKEN SAUCE

 

- Made for chicken, but also great on ribs, salmon, tacos, and fries.

Fish Tacos With Chorizo Slaw Recipe Here
Chorizo Snack Sticks // Aurelia's Chorizo //
 

Boerne, TX

In a small town an hour north of Austin, Leslie Horne makes some of the best dry-cured chorizo in America, packing a similar punch to the fresh Mexican variety. Slept through breaky? Nothing says '¡Vamos!' at kickoff like chorizo tacos.

From The Maker:

"Aurelia's Snack Sticks also known as Chistorra, are made from the same recipe as our Original Dry Cured Chorizo. They are Keto, Paleo and Whole30 diet friendly with no sugar, fillers or additives. Small artisan batches of the sausage are prepared with full pork shoulder cuts, fresh ground garlic and Spanish Paprika imported from the de la Vera region of Spain. The chorizo is lightly smoked and dry cured for a rich, authentic flavor. Great on the go snack packed with protein."
Aurelia's Chorizo Breakfast Tacos Recipe Here

Garnish A Bloody

Elote (Mexican Street Corn) Tacos With Crumbled Pimento Cheese Popcorn & Fresca Salsa Recipe Here
Pimento Cheese Popcorn // Poppy Popcorn // Asheville, NC
When you're looking for a snack to pair with an icy beverage, shelve the boring beer nuts and sub in Poppy. Handcrafted in Asheville, a town known for, arts, outdoors, craft beer and now, popcorn, Poppy is easily one of our favorite small-batch makers in the US. From Salted Caramel to Everything Bagel, Cinnamon Bourbon to Southern Dill Pickle, Poppy has a Baskin Robbins level of flavor variety. Make no mistake, there is nothing mass-made, every bag is crafted with high-quality ingredients and non-GMO Corn (not to mention sleek design). We reach for the Pimento, an ode to the Southern sandwich staple. So grab a handful but don't sleep on using it as a cheesy sub for croutons in a salad or to add a little crunch to these elote tacos.
From The Maker:
"Ditch the typical butter-flavored movie theater popcorn, and treat yourself to the Pimento Cheese Popcorn from Poppy. This cheese-flavored snack was handcrafted in Asheville, NC and brings together the 'light as air' delight of crunchy popcorn with the savory flavors of sharp cheddar cheese, paprika, and cayenne pepper. Just don't forget to share!"
Sesame Teriyaki Beef Jerky // Think Jerky // Chicago, IL
"Turf & Turf" Tacos With Honey Glazed Pork Belly & Shredded Sesame Teriyaki Jerky Recipe Here
Korean Honey Chili Cauliflower Tacos Recipe Here

Out: the chemical pumped gas station jerky. In: Healthy jerky with recipes created by world-renowned chefs like two time James Beard Award Winner Chef Gale Gand.
Ricky, the founder of Think Jerky sure had a good thought when he came up with tagging in top tier chefs into the jerky ring.  From two-time BaconFest Champion Matt Troost, to the legendary founder of Hot Doug's (named one of the "50 Best Restaurants on the Planet" by Bon Appétit Magazine), to Michelin-Starred Chef Gale Gand, Think delivers expertly crafted flavors that don't rely on buckets of salt and sugar.  Some may call it jerky innovation, and yes, the jerky horizons are indeed bright.
Go Behind-The Scenes On The Jerky Process In This Video: 
Tag Your Photos To Be Featured: #Mantry
Umami Barbecue
Call it the fifth taste, call it the X factor, call it that certain something .  Call it anything, or call it nothing at all, just a satisfied sigh. With our favorite foods, when words fail, we're likely in the glorious grip of umami, that unplaceable but unmistakable salty-savory-something that makes us take just one more bite, that can give even the most monastic foodies the late-night munchies. Umami is everywhere.  All of which means, you're in luck, because even if we can't exactly define umami, we can box it up and land it on your doorstep. Salivating yet?
Use #mantry or tag @mantry in your recipes and unboxings to be featured!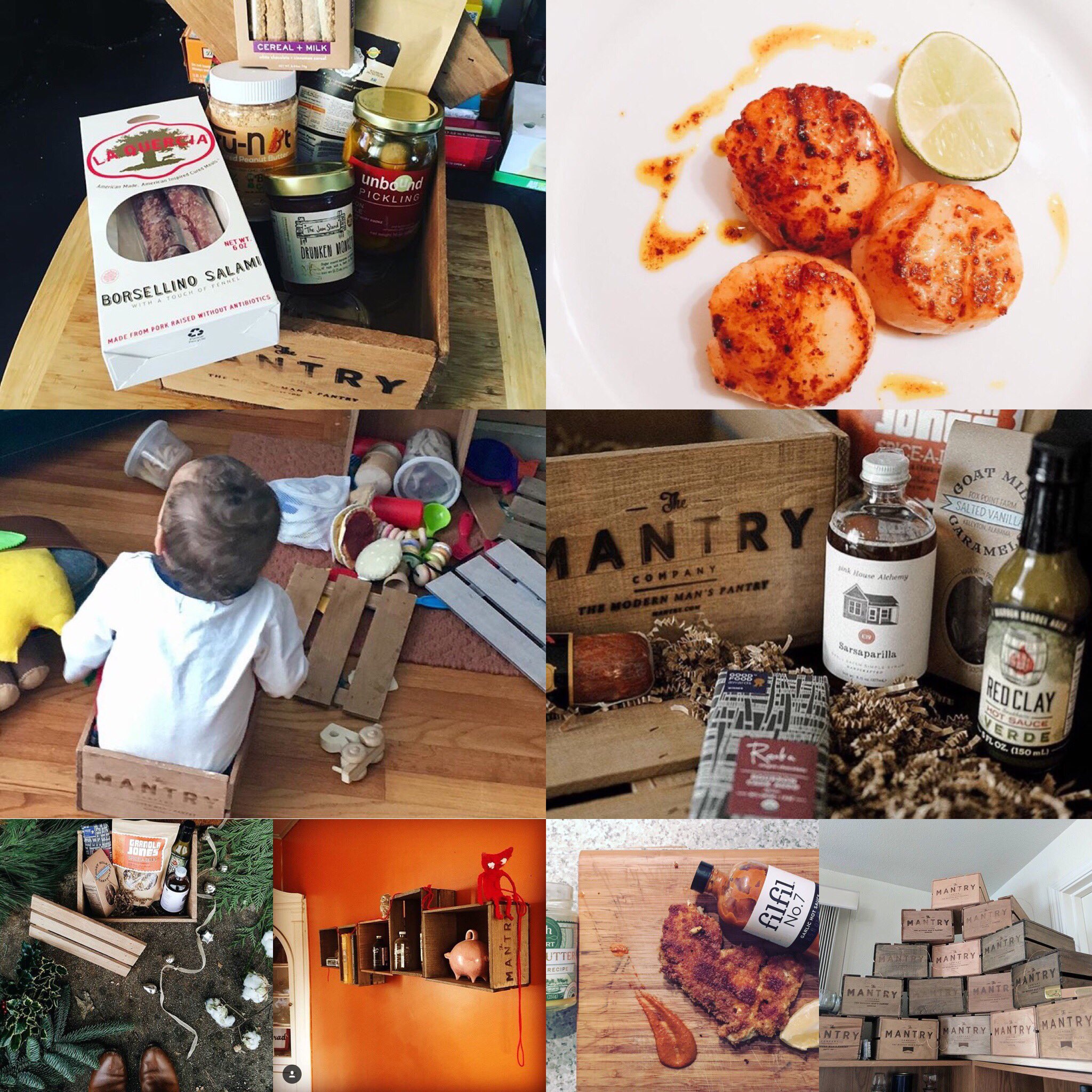 Pork Panko // Bacon's Heir // Atlanta, GA
Barbecued Umami Corn Recipe Here
Pork Rind Breaded Tonkatsu Pork Recipe
Panko — the flaky, crunchy, Japanese breadcrumbs — are what make tempura and katsu pork shatteringly crisp. Pork Panko has eliminated the bread and gluten and subbed in nature's great giver of flavor, ground pork rinds. The big surprise? These actually improve on the original. 
Recipes: 
Paffle Recipe - Pork Rind Waffles
Pork Rind Breaded Coconut Shrimp Recipe
More Recipes:
Pork Rind Crusted Mac N Cheese
Light and Easy Arugula Summer Salad
And  More Recipes Right Here... 
Umami Reserve Hot Sauce // Seed Ranch Flavor Co. // Boulder, CO

Barbecued Umami Corn Recipe Here
Ask a food scientist to describe Umami and this what you'll hear: savouriness, meaty, broth-like, rich intensity —a huge flavor bomb. This sauce is engineered to deliver Umami, leveraging Umami cornerstones like porcini mushrooms and dried olives and combining them with the famed chocolate habanero pepper and fresh garlic. The result? A sauce that can wake up any brothy soup, taco, burger or thing, that needs a big flavorful backbone. Like the tuba kid in the back or the humble bass player, this sauce does the heavy lifting to provide BIG flavor in just a couple drops. 
5 Fast Uses
Avocado Toast
Douse Into Pasta Sauce
Spike Some Chicken Broth & Noodles
Scrambled Eggs
Over Grilled Veggies 
Recipes:
Street Corn with Chipotle Crema
Umami Roasted Potatoes & Cauliflower Recipe
Japanese Barbecue Sauce // Bachan's // Sebastopol, CA
Japanese Barbecue Steak & Udon Salad Recipe Here
From The Maker:
For as long as I can remember, my Bachan — you might say Granny — would cook up the most amazing meals with our umami–filled, teriyaki-ish sauce! The recipe has been passed down and perfected over generations and today, my family and I are honored to share our authentic Japanese Barbecue Sauce with you.
To stay true to the original recipe, we cold-fill our sauce — which eliminates any need for additives, preservatives, or flavorings. Our crave-worthy flavor comes naturally from delicious, clean ingredients. Let's eat!
ITADAKIMASU!

Recipes:
Bachan's Kalbi Short Ribs with Rice, Kale Salad, and Kimchi
More Recipes:
Easy Bachan's Bulgogi Rib-eye Sliders
Japanese Tacos with Yuzu Sriracha Crema
Kickin' Sriracha Free Range Turkey Jerky // Mission Meats // Decorah, IA

The jerky aisle can be a dizzying selection of low grade, uninspired, over-processed cardboard snacks that underwhelm. But how do you level up? You go on a mission to crack open this bag and dive into lean, protein-rich turkey with just the right amount of kick. Make no mistake, the umami formula is alive and well in this bag with obvious meatiness and just enough funk from the sriracha spice. 
Fiddyment Farms // Barbeque Pistachios // Lincoln , CA

Barbecue Chicken Lettuce Cups With Pistachios & UFO Sauce Recipe Here
Whether you're crafting cocktails or just throwing back cold beers, a proper nut worth its salt is a no brainer. Introducing, Fiddyment Farms, who have been growing, roasting and packing premium pistachios on the family farm in the heart of California since 1968. Their chili-lime flavor is another standout but we love the barbecue pistachios for their bold smoky flavor with a hit of sweetness. 
Let's face it when the temperature rises and the 'cue gets fired up, cracking pistachios with an icy beverage while watching something char on the grill is one of life's simple pleasure.
David & Dolly Fiddyment
Since 1968 is a long time, so cue the vintage Pistachio Farm Shots! 
UFO Sauce //
HLTHPUNK // Los Angeles, CA
Barbecue Chicken Lettuce Cups With Pistachios & UFO Sauce Recipe Here

An Awesome Burger Sauce!
If you've been subscribed to Mantry, you know we're all about easy, dish-transforming products that can elevate a meal in a squeeze. Enter, Hlthpunk's UFO Sauce, a combo of ultra-healthy Bionnaise vegan mayo, hot dijon mustard, tomato paste and a dash of cayenne. This top-secret sauce has everything you need to take any burger, sandwich, sub or wrap beyond the stratosphere.  
5 Fast Uses
1. Slather on hot dogs, subs, BLT's or anything you would use mustard for. 
2. Smother on pork tenderloin or any meat before grilling.
3. Mix into a burger patty or soups and stews. 
4. Make a quick dressing with 1 tablespoon UFO + 3 tablespoons acid (lemon, lime, vinegar ect.) and 1/2 cup oil (olive oil, avocado, canola ect.)
5. Mix 1/2 UFO and 1/2 mayo or yogurt to make an easy dip for baked sweet potato fries, veggies, fish, meat ect. (or just dip in the sauce straight up).
Thanks for reading! :) If you enjoyed it, share this page. Would mean a lot because it helps other people discover the makers.
Follow Mantry: Twitter | Facebook | Instagram | Snapchat | Youtube
THE PERFECT GIFT FOR HIM
Give him the gift he really wants - including 6 full-size artisan food products and a custom handmade wooden crate.
give him a gift
GET YOUR MANTRY
We'll deliver the best foods from across the country to your door every two months.
subscribe today