What are some of the best pantry products of 2023? I know what you're thinking: "Wow, another blog post about food, how original." But let us tell you, this is not just any old list of pantry staples. We've scoured the aisles and the farmer's markets and taste-tested our way through countless snacks to bring you the cream of the crop. So buckle up and get ready to stock your shelves with the best of the best (and maybe you'll discover a few new favorites).
We independently review everything we recommend. When you buy through our links, we may earn a commission. 
Best Small Batch BBQ Sauces:
Chorizo Guacamole With Date BBQ Sauce
We at Mantry love a twist on classic functional sauces and The Date Lady has delivered with this smooth, healthy BBQ Sauce. One of the great underrated ingredients, the date, gets suited up for game day with this sauce that works on everything from ribs, chicken and wings to guacamole. By cutting out the garbage you find in most supermarket bbq sauces, The Date Lady has definitely secured a deep playoff run in the BBQ sauce of the year championships. 
In Kansas City it's sweet tomato style, in Alabama you'll find white bbq sauce, Texas is a whole other thing but in Eastern North Carolina it's all about whole hog and vinegar sauce. Few humans know more about Eastern N.C. barbecue than the Jones family who have also run the mecca of Skylight Inn since 1947 and happen to have been cooking hogs since the nineteenth century. Sam Jones BBQ is the latest in spreading the family empire and gospel of this unique style of cue. Until you get a chance to visit, this sauce can be doused on everything from grilled meats and slow-smoked pork of course, but don't shy away from using it in salad dressing or for slaw.
From The Maker:
Our sauce is a classic Eastern N.C. vinegar sauce with a touch of sweetness and a small hint of heat. Perfected over generations to dress pork but works great on chicken. Is meant to be applied after cooking pork to dress or blend in.

Best Jerky Or Snack Sticks When You Need Protein In A Pinch:
Butternut Squash And Chorizo Tacos With Grated Dark Chocolate
This Chorizo x Snack Stick mashup is the collaboration we didn't know we needed. Add big flavor to the middle of your afternoon hike or workout routine or use it as you would Chorizo in tacos, nachos or clams.  We submit that any dish that begins with sautéed Aurelia's chorizo will have the rest of the fans on gameday asking about the recipe. Aurelia's owner Leslie has years of experience and it shows in our favorite Chorizo in the US of A.
Rosemary Garlic Premium Beef Jerky // Savage Jerky Co. // Buford, GA
This jerky gets impressively close to just tasting like a good steak.  Tender, with a hit of rosemary and garlic. That is why we recommend thinking beyond the bag and trying it shredded over a baked potato or tucked into a grilled cheese.  Another underrated way to use jerky? Crisp it up in a pan with olive oil and sprinkle it over pasta.  Be sure to use the leftover umami-rich cooking oil as a finishing oil over roast veg, meats or fried rice.
Recipe:

Truffle Mac & Cheese With Crispy Jerky
From The Maker:
We blend rosemary and fresh garlic with a zest of lemon for an experience to rival a steakhouse! 
No mass production or automation here, just grass-fed beef and age-old family recipes. Aufschnitt takes their journey on the BBQ trail for the protein-packed snack that is great for pre-afternoon crash, post-workout or during beer sippin' sessions. Need more healthy power? Try their beef bars or beef sticks that will curb any craving and keep you fuelled while you wait for the cue to heat up. 
From The Maker:
Looking for a BBQ in a bag? Try our BBQ Jerky and you will be pleasantly surprised with the amazing flavor. Enjoy your Kosher, all natural, gluten free BBQ Beef Jerky sourced from Grass Fed Beef.
Forget standard gas station jerky and take a trip down the Baja with this stunning mix of street taco flavors. The team at Baja Jerky start off with the key players like lime juice and garlic then kick it up with a touch of annatto, tamarind and chipotle. The result? The closest jerky can come to transporting you to a roadside taco truck down the coast. No nitrates, gluten, preservatives, or MSG, just healthy protein and an open road to a flavortown down south.  
From The Maker:
Have you ever wondered why tacos from hole-in-the-wall shops always taste so much better than tacos from 4-star restaurants? We'll let you in on the secret – it's because they're 100% authentic. The heroes running small shops like that aren't worried about the frills of the culinary world… rather, their #1 priority if serving up a taco platter that keeps you coming back for more.
Our Street Taco flavor taps into that authenticity with ingredients like cilantro, white onion, chipotle, chili and oregano to bring you a flavor of jerky you couldn't have even dreamed of. This delicious new flavor tastes like it's been passed down from generation to generation through family recipes, but it's got the flare of a modern snack. We've, of course, put our Baja Jerky touch on it to make sure it fits our flavor fam perfectly!
Best Chocolate To Curb A Craving:

Matcha Ice Cream With Spicy Candied Togarashi Peanuts And Antidote Chocolate
Dark Chocolate (especially the special stuff like Antidote makes) is always a welcome addition to add complexity and depth of flavor to chili, sauces or in this case, grated over squash tacos. Use Antidote in dessert but this brilliant blend of banana and chili also works perfectly eaten right out of the wrapper: Antidote is one of the most inventive and skilled chocolate makers in the country and worth it whether you need a midnight snack or to add something extra to a dish.

Year after year, Vosges make some of the most innovative, delicious and downright fun bars in the country. From Bacon, to cheddar to this delectable Dulce De Leche.  If you can hold off downing it in one sitting, try a couple of ounces cracked over Pumpkin Spiced Pancakes for the ultimate Fall comfort moment.
Recipe:

Pumpkin Spice Pancakes With Fig Syrup Apples, Caramelized Bacon and Crumbled Dulce De Leche Chocolate
From The Maker:
The "sweet" milk aroma of our whole milk dulce de leche is juxtaposed aside our deep milk chocolate, and sprinkled with Celtic sea salt.
Best Cocktail Syrups You Can Also Cook With:
Fig Syrup Caramelized Onion Burger With Goat Cheese
We've discover a secret we are about to share with you (shhh). Cocktail syrups are not just for cocktails…

Turns about a "cocktail syrup" when made by master craftsmen like the Liber & Co. team can be used in vinaigrettes, sauces, glazes and desserts. To prove the point we experimented for a day in the test kitchen and discovered this Fig syrup produced jammy, figgy caramelized onions perfect for any burger and that you can glaze apples in fig and bourbon for a cocktail-inspired pancake topping. Of course, the stuff is lights out in actual cocktails and the Liber & Co. team has awesome cocktail recipes waiting. Fig Manhattan anyone? The syrup is just the beginning, scope the Austin-based maker's roster of more cocktail (and cooking) syrups.
From The Maker:
Made from a unique blend of California Black Mission and Calimyrna varieties, this Caramelized Fig Syrup is redolent of sugared dark fruit and subtle spice. Expect a deep, concentrated fig flavor that naturally complements barrel aged spirits like whiskey and rum.
Recipes:
Pumpkin Spice Pancakes With Fig Caramelized Bacon, Apples & Dulce de Leche Chocolate

We know you want to roll up your sleeves and flash those vinyasa-toned forearms, shaking up cocktails for your ogling guests — but they don't want to watch; they want to drink, and you should be shmoozing, not sweating it out behind the bar. So do what the trendiest mixology meccas do and plan ahead with DIY drinks. Cocktail Crate's mixer is perfect. It has everything but the booze: a fiery blend of sriracha and aromatics, sultry sweet with spice. Mix one part tequila to one part Cocktail Crate, fill a swing-top bottle, set the bar with an ice bucket, margarita salt and a bowl of sliced limes, and save the shaking for the dance floor. Need a summer soother? We even use it as a marinade for fish tacos.
From The Maker:
We're obsessed with tequila and mezcal at Cocktail Crate, and that means we take our margaritas pretty seriously. That's why we decided to make Sriracha Margarita from only fresh squeezed lime juice, organic agave nectar, and our favorite small batch Sriracha. Simple, great ingredients make for great Margaritas. And great Margaritas make for fun and memorable evenings with family and friends. Salud!
Best Spice Rubs For Fast Flavor:
When it comes to a true "all-purpose" BBQ rub the gents down at Sam Jones BBQ have a couple generations of experience.  This seasoning works on any grilled meats, shrimp, veggies or can easily kick up some mayo for a quick dip.  Of course it's a no brainer for rubbing down pork for the smoker but don't miss it dusted on grilled corn either.
From The Maker: 
Our rub is a North Carolina standard. This expertly-crafted seasoning is what we use for pork and chicken, applying before cooking. But we also think it makes a pretty good seasoning on everything from fries to hamburgers.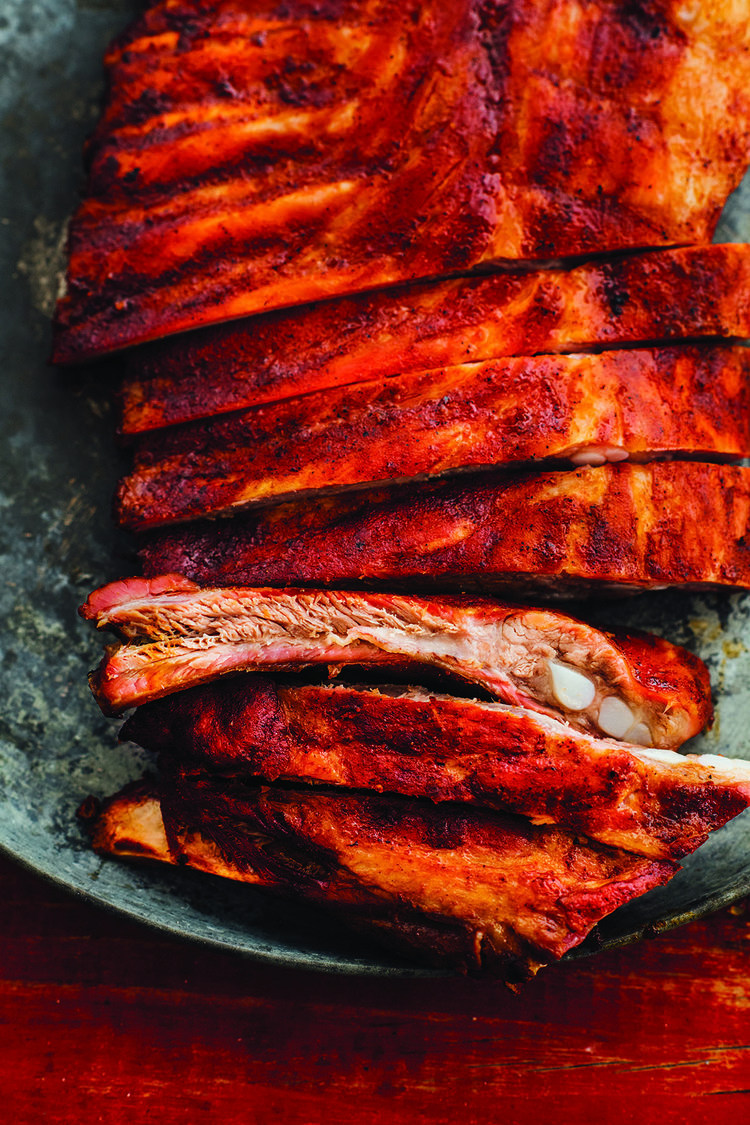 It's no surprise that a maker renowned for expertly spiced jerky also makes a mouthwatering spice rub. Savage makes a multi-functional, all-purpose rub to be dusted on anything heading for a hot grill, oven or pan.  Sneak it into a burger patty, or coat roast chicken in it or try it on grilled fish and vegetables.  It's easy to use and wakes up weeknight dinners in a flash.
Best Late Night Mac n Cheese (That's Healthy)

Pork Street Tacos With Hot Honey Recipes
When it comes to street tacos, the spice blend is the make or break between bland and bangin'.  Baja has mixed up a universal seasoning that works on everything from shrimp to pork but can also be doused on Mexican street corn or fresh grilled veggies.  Pick a protein, toss it in this seasoning, hit it with some chopped cilantro and onion, wrap it in a tortilla and you'll feel like you're standing outside a taco truck on hot parking lot pavement in no time.
Elevate any dish with our unique blend of Baja inspired spices and the peppery sweet flavor of annatto.
Upgrade your family's Taco Tuesday with authentic flavors of Baja! Not your ordinary taco seasoning – we've exquisitely crafted this blend of pure source-verified ingredients including annatto seed, garlic, onion, chile peppers (Ancho Chile, Chipotle, and Smoked Paprika), and NO additives or thickeners!

5 Fast Uses
Mexican Street Corn
Sweet Potato Fries 
Baja Fish Tacos
Street Taco Spiced Burgers
Homemade Breakfast Burritos 
Margarita Salt Blistered Shishito Peppers
The Spicy Margarita is a thing of beauty but the rim is often overlooked.  That's why hot sauce masters Red Clay stepped in to craft this citrusy, spicy salt that takes any marg to the moon. But don't stop there.  Try it dusted on fish tacos or grilled veggies or even sprinkled over chocolate ice cream.  
This top-shelf spicy margarita salt will take your margarita to the next level. The perfect balance of citrus, spice, and sweetness for delicious, handcrafted cocktails. Made with the highest quality kosher salt and raw turbinado sugar, it's perfect for more than just margaritas—Chef loves sprinkling it over grilled chicken, fish tacos, and in homemade guacamole
Chicken Yakitori With Date Barbecue Sauce Glaze
The Spice Tribe mixes and matches magic taking those who get a chance to use their product on a global ride from country to country. With the addition of a regional chili or a special ingredient, they offer mini vacations in a jar. This Japanese-inspired blend is as functional as it is delicious. You can dust it on chicken for yakitori, any piece of fish or toss vegetables destined for the grill in it.
Best Boxed Mac And Cheese:

Mac & Cheese is a staple that was overdue for a nutritious (and flavorful) upgrade. Enter GrownAs* Foods, with this truffle-infused mac packing 25g of protein.   This is a new company that has already mastered the craft so to speak. Enjoy straight up, or dress it up with crispy jerky, fresh herbs or buttery sautéed Brussels sprouts. But honestly, it's comforting and delicious straight out of the box. 
From The Maker:
Cheesy, creamy, packed with truffle flavor, and ready to make your tastebuds sing. Have your decadent and delicious moment, all you'll need is ten minutes, some plant-based milk and butter, and a big appetite.
This is the tastiest truffle vegan mac & cheese out there.
Best Hot Honey For Grilling:
Take a road trip down the historic highways of the South and you'll dive into buttery grits and shrimp, juicy chicken and waffles and barbecue that may just change your life. Well, Red Clay Hot Honey tastes good on all that stuff and pretty much anything you drizzle it on. The secret? Sweet heat. A partnership that upgrades everything from a mundane slice of cheese on a cracker to a ball of vanilla ice cream. 
From The Maker:
Our Hot-Hot Honey is a ramped up version of our best-selling Hot Honey. We infuse our 100% pure and raw Georgia-raised honey with our habanero, which results in a delicious honey with heat that hits the back of your throat. You can thank us later.
5 Fast Uses
Breakfast Biscuit
Granola
Roasted Carrots
Ice Cream
Fried Chicken
Hot Honey Recipes:
Warm Salad of Roasted Squash, Prosciutto and Hot Honey
Best Bacon Popcorn:

We like caramel corn and we like bacon so naturally we'll have what these two cowgirls are bringing to the table.  Whether you are chasing beers at the local saloon or sipping a spicy margarita, this sweet treat pairs perfectly with any beverage. If you dig this bag, saddle up because they also offer a tasty Sriracha and Chocolate Sea Salt flavor.  
Best Granola (But Also A Crunchy Topping):
Jamie's Farm is not making your everyday breakfast Granola. Sure, it goes great on yoghurt with a hit of honey but you can also crumble it over salad, roll goat's cheese through it, shower it over grilled veggies or anything else you want to add a little rosemary crunch too.  Think of it as a savoury, texture creating topping for anything coming off the bbq.
From The Maker: 
The Flavor that started it all. Aromatic rosemary with honey-toasted oats, ghee butter, and sweet currants.

More sweet than savory, our granola gets fresh rosemary leaves infused into its honey and ghee base, adding layers of flavor. Then, we toss our crunchy clusters with sweet, chewy currants for a positively obsession-worthy blend. Trust us on this one.

- 2021 Silver sofi Award Winner
- 2022 Good Food Awards Finalist 
Best Southern Roasted Peanuts:

Hubs was started half a century ago by a busy mom with a killer recipe and the country's best peanuts as an easy homemade snack to sate her peckish kids. Today it's a mail-order empire spreading the Virginia legume nationwide, and curing the plague of all barbecues: the nibbler. Keep your peckish guests occupied with these extra-large Virginia-grown peanuts, mildly spiced with chili pepper, and grill in peace.
BBQ Cauliflower Steaks With Smoked Salt & Hubs Peanuts Recipe Here
Everything on this list was featured in the Mantry subscription...
THE PERFECT GIFT FOR HIM
Give him the gift he really wants - including 6 full-size artisan food products and a custom handmade wooden crate.
give him a gift
GET YOUR MANTRY
We'll deliver the best foods from across the country to your door every two months.
subscribe today