Mantry introduces our "Expert" series.  From Bourbon to Jerky to Keto to BBQ top minds give us their insider picks.
Few people know more about good eating than butchers, so we tag in a master of meat to hook you up with five tips any carnivore can count on. 
Alix Bee // Butcher Expert
Behind every great piece of meat, is a great butcher. Although I'm more formally known as RareAndSaucy, my name is Alix Bee and I'm a butcher at an old-school gourmet Italian Butcher shop. 
I started off as a counter girl, but my passion for learning and cooking (And subverting expectations) made me the first woman to cut meat in the store's 40 year legacy. As ridiculous as it sounds, nothing gets me fired up like helping people with their meat! Or like a good old meat joke ;) 
If you're just starting to level up your meat game this summer, take a look at these butcher hacks for flavorful, tender, well cooked meat! Follow me on instagram for more hacks, recipes, and really, and I mean really, awful jokes @RareAndSaucy.  
PS: Think of Alix as your Sensei of Steak, follow her and one day you may have a black belt in butchery. 
Instagram: @RareAndSaucy
And Now, Let's Get Started.....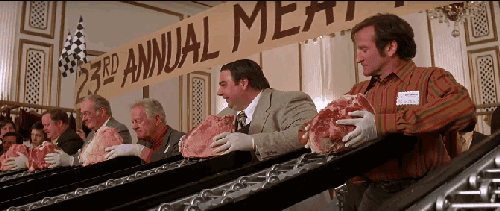 Photo: How Sweet Eats
5. Cook with the Beer You Love 
You'll look like a genius with this classic trick. Marinating or braising with the beer you're drinking offers a dual action flavor boost to your meat, and helps muscle fibers break down for tender, fall off the bone barbecue. Enjoy your dish with a cold one, for the perfect taste pairing.
4. No Smoker? No Problem! 
Sometimes you just don't have enough time to become a BBQ Pitmaster overnight, or you're not ready to drop a bag on that smoker that's been on your wishlist for the past three years. Work smarter, not harder. Consider using Liquid Smoke. With a couple of drops of this baby, you can rock some imitation BBQ smoke flavor, minus 12 hours of babysitting. I recommend Wright's Hickory for an all-purpose smokey flavor. 
3. Take Out the Guesswork, Use a Meat Thermometer 
If you ever find yourself nervously wondering if your meat is so rare it's practically alive, or so well done your grandma would approve, I'd highly recommend making a small investment in a handy dandy meat thermometer. For a medium rare steak, pull your meat off the grill at 140F, and let it rest for a final internal temp of 145F. On average, your meat will increase +5F as it rests. Wondering about Low & Slow? Tougher muscles, like those found in brisket and pork ribs, have to reach an internal temperature of 190F for the muscle fibers to break down into tender goodness.
Photo: Jess Pryles
2. Grilltimidated? Dip Your Toes in the Water with a Reverse Sear 
Look, I'm not gonna ask everyone to run out there and feel like they have to immediately marry their grill - but I will say you should take her out for a nice date. If you're feeling grilltimidated, consider cooking your meat (Steak! Ribs! You name it!) at a low temperature in the oven and finishing with a high temperature direct sear on the grill. For medium rare steak, pull from the oven when the internal temperature reaches 125F and keep flipping on the grill till your internal reads at 140F. 
1. Befriend Your Butcher 
There's no bond like that between a man and his butcher, and there's no better person to help you with your meat than your local butcher! Seriously - they might be the only person as excited for you and your meat as yourself. We're more than happy to direct you to the best cuts of the day, some solid cooking strats, or some awful meat jokes, so don't feel shy about stoking the flames of that relationship.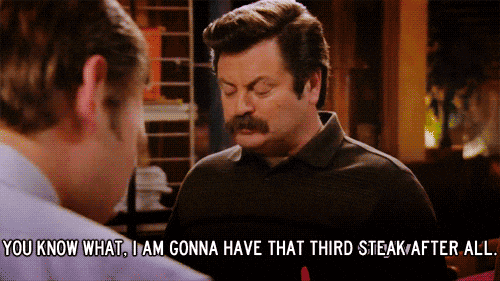 Thanks for reading! :) If you enjoyed it, share this page. It would mean a lot because it helps other people discover the tips (and Alix's skills).

Follow Mantry: Twitter | Facebook | Instagram | Snapchat | Youtube 
THE PERFECT GIFT FOR HIM
Give him the gift he really wants - including 6 full-size artisan food products and a custom handmade wooden crate.
give him a gift
GET YOUR MANTRY
We'll deliver the best foods from across the country to your door every two months.
subscribe today