Ditch the Nutella and try these healthier, better, and more innovative products. Here are our five must-try Nutella alternatives.
We independently review everything we recommend. When you buy through our links, we may earn a commission.
Master of Ghee (clarified butter) Fourth & Heart has built an army of enthusiasts from powerlifters to yogis, to Abbot Kinney scooter aficionados. Everything they make is good but for the Nutella nuts, try their chocti spread, crafted from cacao, dates and Madagascar vanilla bean ghee, this is choco rocket fuel. 
Did you know that 99% of US grown hazelnuts are grown in Oregon? Eliot did.  One of our favorite nut butter makers in America has tapped homegrown Oregon hazelnuts for this Nutella upgrade you can slather on anything from toast to s'mores to protein bowls.
Tahaini (sesame seed paste) is an utterly, underrated product in our humble opinion. Remember that delicious donair you housed after one too many libations? Chances are it had garlicky, tahini sauce on it. It's the ingredient you don't notice but quietly MAKES hummus. But when the Tahini Queens at Soom launched chocolate tahini they took a middle eastern staple in a new, delicious direction. With only three ingredients you can blend it, spread or just spoon it out of the jar.
From The Maker:
"Our Chocolate Hazelnut Butter just got a whole lot better!  In addition to hazelnuts, cacao nibs, coconut sugar and vanilla we've added cacao butter and sunflower lecithin to the formula. The effect? Enhanced creaminess, reduced separation and maximized yumminess"
Organic, wholesome and what Nutella would be if it cleaned up its diet, started doing meditation retreats in Joshua Tree and living more sustainably. Or, you can ignore our blabber and go with their perfect slogan, "Just Eat Me".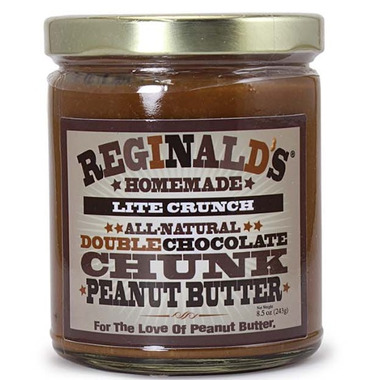 Double Chocolate Chunk Peanut Butter // Reginald's Homemade // Richmond, VA
Visionaries of boozy peanut butter (try their bourbon pecan), Reginald's comes out of its shell with 2x the chocolate. This is kinda like the Ben & Jerry's of peanut butter, just hitting all the right spots and good enough to eat right outta the tub while binge-watching Netflix rom coms. 
Thanks for reading! :) If you enjoyed it, share this page. It would mean a lot because it helps other people discover the maker.
Follow Mantry: Twitter | Facebook | Instagram | Snapchat | Youtube 
THE PERFECT GIFT FOR HIM
Give him the gift he really wants - including 6 full-size artisan food products and a custom handmade wooden crate.
give him a gift
GET YOUR MANTRY
We'll deliver the best foods from across the country to your door every two months.
subscribe today