Halloween candy is not just for kids.  Beyond the Milky Ways and Butterfingers, here's a roundup of sweet treats from some of the best small-batch candy shops and chocolate factories in America.
We independently review everything we recommend. When you buy through our links, we may earn a commission.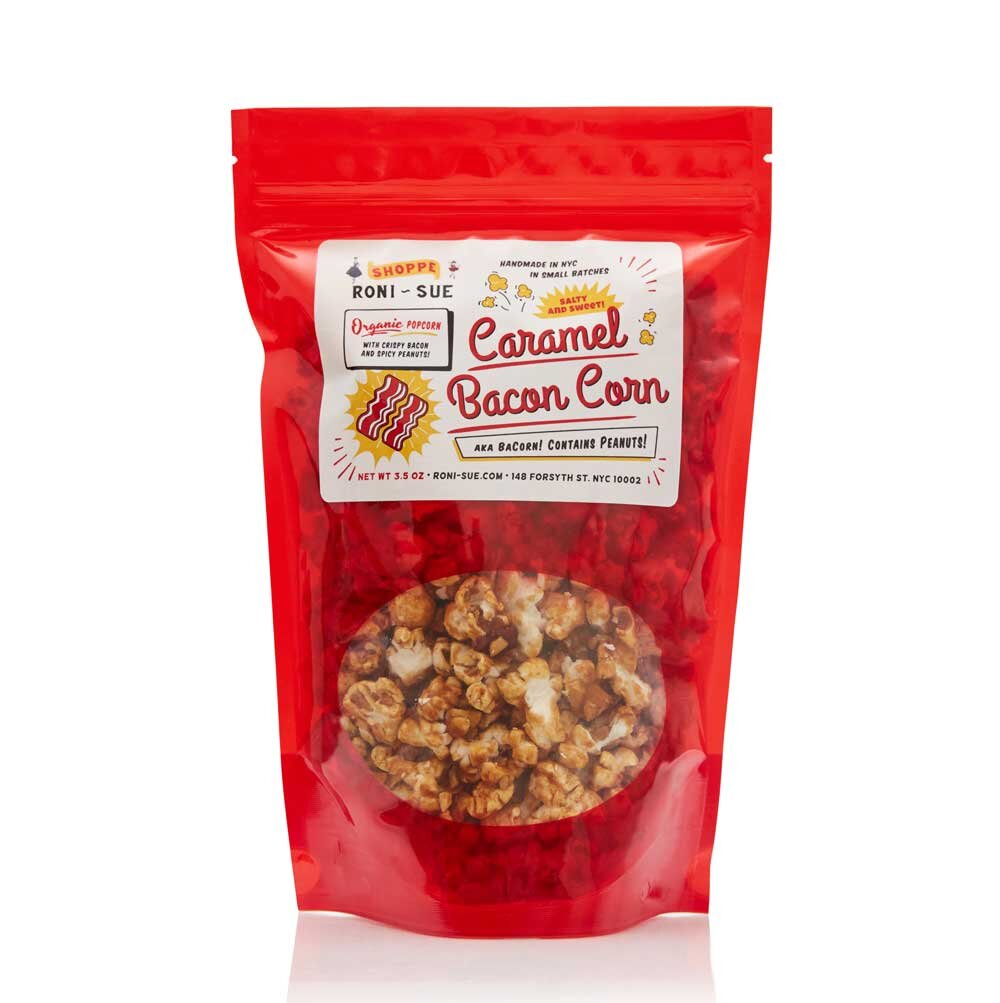 Caramel Bacon Corn // Roni-Sue Shoppe
Popcorn? Yum. Caramel popcorn? Now we're talking. Bacon caramel popcorn? The tri-fecta of yums.
From The Maker:
"BACORN is our upgrade on America's favorite caramel popcorn in a box (yeah, that one). The only prize inside is the delicious smoky honey caramel-coated organic popcorn, loaded with spicy peanuts. A notorious chef once declared, "The everything-is-better-with-bacon people should make this their official snack!". 'Nuff said."
From Honeycomb Toffee to Fleur De Sel Ritual handcrafts some of the best chocolate bars in the nation.  We dig this 70% blend that brings a little campfire to midnight snacking.
From The Maker:
"Made with caramelized sugar to give a toasty, fresh off the campfire marshmallow taste, with graham crackers sprinkled on the top. This is a great bar to bring on your adventure, when you don't have room for all the s'mores components but still want to enjoy those classic graham cracker, chocolate and marshmallow flavors."
Sparkle Bark // Bang Candy
Grown-up peppermint bark from one of Nashville's most talented makers (they also make epic cocktail syrups). 
From The Maker:
"Awaken your sparkly bits with a new kind of handmade Peppermint Bark! 
Made with all-natural ingredients, Sparkle Bark is layers of deliciousness, starting with a base of dark Belgian chocolate and a layer of shiny pink Belgian white chocolate. But that's not all! There's crushed peppermint candy and festive popping candy too!"
An artisan made marshmallow is a totally different animal from a Jet Puff thing.  Malvi brings inventive flavors like cotton candy and makes a signature line of mallow sandwich cookies.  Where to start? try the fluffy nutter.
From The Maker:
"Peanut Hazelnut Crunch Mallows with a Chocolate Swirl equal the ultimately satisfying snack."
Chocolate bars for grown-ups? Why do kids get to have all the fun?  Mayana's Fix bar is excellent but honestly their whole line up of chocolate is worth an order.
From The Maker:
"One thing leads to another in Mayana's Fix Bar. With vanilla-bean shortbread, fleur de sel caramel and our own 66% custom-blend dark chocolate, this bar delivers every bit of the fix it promises."
PB Chew // Amy's Candy Bar
Like the greatest version of a Snickers you could think of, Amy's Chocolate knocks it out of the park here. 
From The Maker:
"So much more sophisticated than a spoonful of peanut butter from the jar, our PB CHEW candy bar starts with roasted peanuts carefully folded into signature sea salt caramel, then layered with luscious peanut butter and molasses nougat. We coat it all in rich Belgian dark chocolate."
Sure, scotch in a glass is great but scotch in caramel form also deserves your attention! 
From The Maker:
"A hint of Scotch Whisky delivers rich, peat-smoked flavor without the hangover."
The toasty notes of brown butter + rich bourbon + perfectly handcrafted caramels = candy bliss
From The Maker:
"Our Brown Butter Bourbon Farm Box. 11 delicious Bourbon'y Buttery yummy goat milk caramels in our USA made, compostable box. We use Mad River Distillers GMO FREE Bourbon and it is delicious. A perfect snack with your cocktail."
Most people don't know about Cactus Candy but when you know, you know.  Soft, juicy, prickly pear-y, a truly original desert dessert.
From The Maker:
"A soft sugar-sanded jellie candy made from the fruit of the Prickly Pear Cactus. This is no extract or imported prickly pears. These are actually Prickly Pears Cactus grown in Arizona."
Jeepers Creepers Truffles // 

Roni-Sue's Chocolates
The all-time Halloween candy for grown-ups, delicious eye balls courtesy of one of the best sweet shops in America!
From The Maker:
"Jeepers, Creepers where'd you get those peepers?? At Roni-Sue's Chocolates, where else! Here's lookin' at you kid--but no tasting. . . these eye-popping Halloween treats are for adults only! Empty Valrhona Ivoire white chocolate shells reminded Roni-Sue of eyeballs, go figure! So she filled them with dark chocolate pomegranate ganache and a float of gelled pomegranate liqueur (jeepers they're good). They'll make for a bloody awesome Halloween! While supplies last!"
They'll make you pucker up with a sweet burst of apple twang, we're just waiting on a caramel coated version!
From The Maker:
"These mouth-watering, sweet, and sour bites are packed with a green apple flavor. Pucker up for this chewy treat! Sour-candy lovers can't get enough of our Green Apple Sour Bites. The tangy and tasty bite-sized gummies are perfect for party favors, gifts, or as a quick snack! With Hammond's Green Apple Sour Bites you'll keep begging for more! "
An original salty, sweet, buttery candy with a great name from the fine state of Indiana.  We reach for the milk chocolate dunked version of Frittle but they are all fantastic!
From The Maker:
"This ain't your grandma's brittle. Frittle combines the classic peanut-buttery sweetness of brittle crossed with peanut fudge. The result is a soft, crispy fudge-like brittle with just a hint of salt. Gluten free."
It's not a bag of candy without good ol' fashioned gummies.  These have less sugar but still pack a punch of flavor!
From The Maker:
"Sour-coated raspberry, passionfruit and lychee in every bag."
Thanks for reading! :) If you enjoyed it, share this page. It would mean a lot because it helps other people discover the makers. 

Follow Mantry: Twitter | Facebook | Instagram | Snapchat | Youtube
THE PERFECT GIFT FOR HIM
Give him the gift he really wants - including 6 full-size artisan food products and a custom handmade wooden crate.
give him a gift
GET YOUR MANTRY
We'll deliver the best foods from across the country to your door every two months.
subscribe today