Best jerky subscription? Jerky club? These are questions we have 10 years of experience to help you answer. When it comes to choosing the right jerky club, here are the best subscription boxes.
*We independently review everything we recommend. When you buy through our links, we may earn a commission.
This Jerky-of-the-month club claims to help you "Discover America's Best Beef Jerky Brands" and from our vantage point they do. They work with the likes of Jerky's Gourmet, Bogey's Beef, Field Trip Jerky and Baja Jerky, all award-winning jerky makers we have showcased in Mantry so we 100% back their curation. 

The "#1 Jerky of The Month Club" works with brands like Prevail an Stryve Biltong which are both Mantry approved. They also offer Gluten-Free Jerky Subscriptions and Paleo Jerky Subscription for the health conscious. 

A newer player that calls itself "#1 Jerky Subscription Box" (I think they all do), the jerky service has a healthy following and offers a booze box (alcohol jerky), a hot box (spicy jerky) and a wild game (exotic jerky subscription). They also have some pretty solid gear and ship jerky to USA and Canada.

If you are looking for clean protein and healthy snacks in the form of jerky, any jerky.com beef jerky box will get the job done. They offer all-natural beef jerky subscriptions, keto friendly jerky subscriptions and basically endless  jerky subscription reviews.
Jerky Subscription offers excellent curation, flexible pricing and top-quality jerky delivered to your door. They also offer special releases like the Inferno Beef Jerky Box for those that like spicy jerky subscriptions!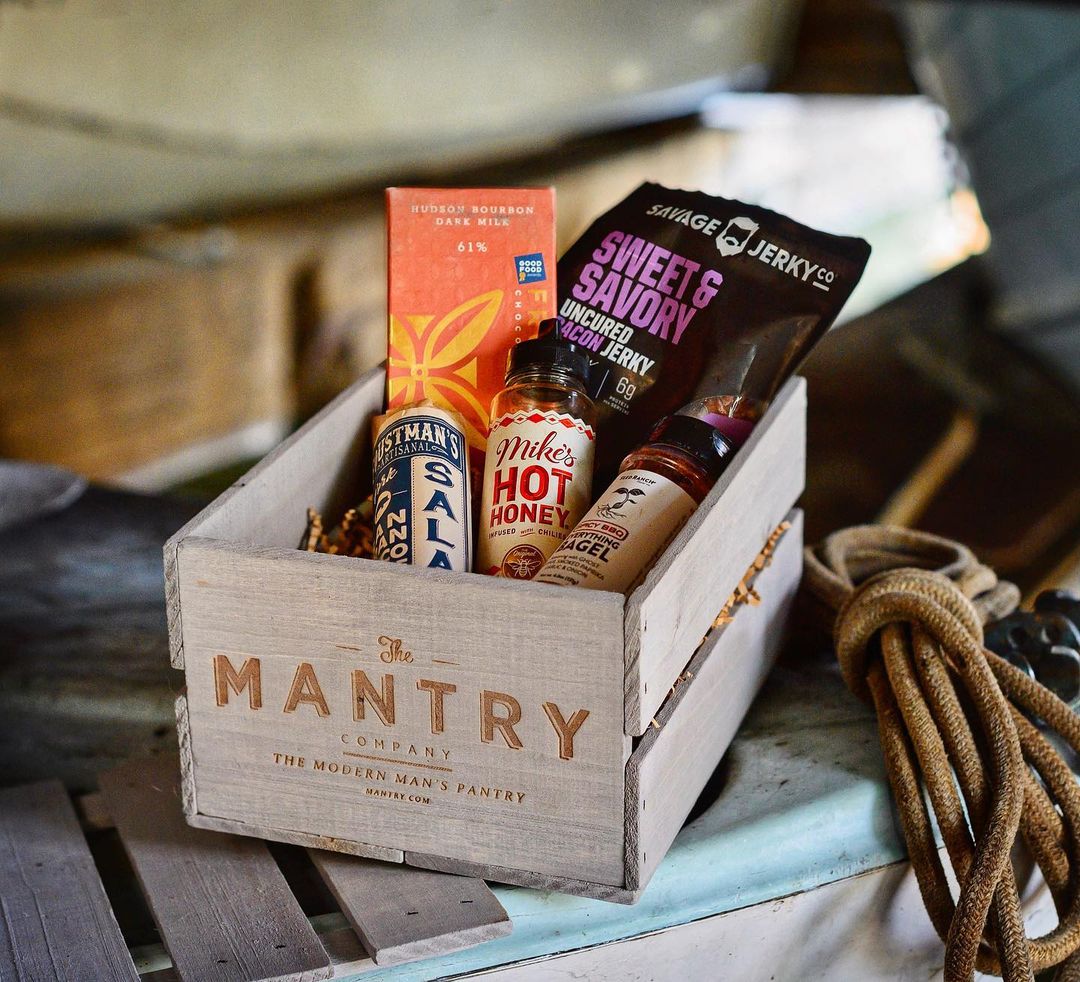 Does Mantry offer a Jerky Subscription? No but there is a bag of Jerky in every Mantry shipment. So if you fancy some hot sauce, maybe a bbq sauce, a premium cocktail mixer and a couple other award winning products along with Jerky, Mantry can be a food birthday gifts for him, or christmas gift or just a good ideas when looking for surprise delivery gifts for him.

With a great jerky gift set is Jerky Snob who only uses jerky made without MSG, nitrates, nitrites, and HFCS make the grade. So when it comes to giving  a surprise jerky delivery, you know Jerky Snob is only sending the goods.
Why not go straight to the jerky maker? Our friends at Righteous Felon offer a Jerky Gift Subscription that delivers their top tier jerky year round.  You can nab it on their website or Food 52.
THE PERFECT GIFT FOR HIM
Give him the gift he really wants - including 6 full-size artisan food products and a custom handmade wooden crate.
give him a gift
GET YOUR MANTRY
We'll deliver the best foods from across the country to your door every two months.
subscribe today