One Tequila, Two Tequila, Three Tequila, Flavor.  Here's a roundup of seven craft, made in the USA products that wonderfully work in tandem with tequila.
We independently review everything we recommend. When you buy through our links, we may earn a commission.
Sure, you might have chased a zillion tequila shots with lime but have you worked ginger into the picture? Start easy, just make a fresh ginger ale with some soda and Portland Syrup's nectar of the gods and add tequila.  
From The Maker:
"We brew this focused, intense ginger syrup with mountains of whole fresh ginger root. To this brew we add Japanese chilies for an authentic, slightly hot finish. Use this flavor powerhouse to mix up Moscow Mules, Whiskey-Gingers, and Dark & Stormies that will have your guests lost for words! Simply add to any unflavored sparkling water and build your drink as you would with a ready-to-drink ginger beer or ginger ale."
Yuzu is BIG in Japan and getting more popular stateside in everything from hot sauces to jams but one of its best uses? Cocktails. Bravado does the heavy lifting, mixing Yuzu into this killer marg mix.
From The Maker:
"Exotic yuzu & fresh lime juice converge into an unparalleled margarita experience.Magic is real and we bottled it."
Feeling a little bit tiki/tropical but you don't want to go full mini umbrella? We dig this citrus-y, punched-up mixer with some blanco or anejo. 
From The Maker:
"Tropical and tart with hints of vanilla and toasted coconut for the perfect tiki drink."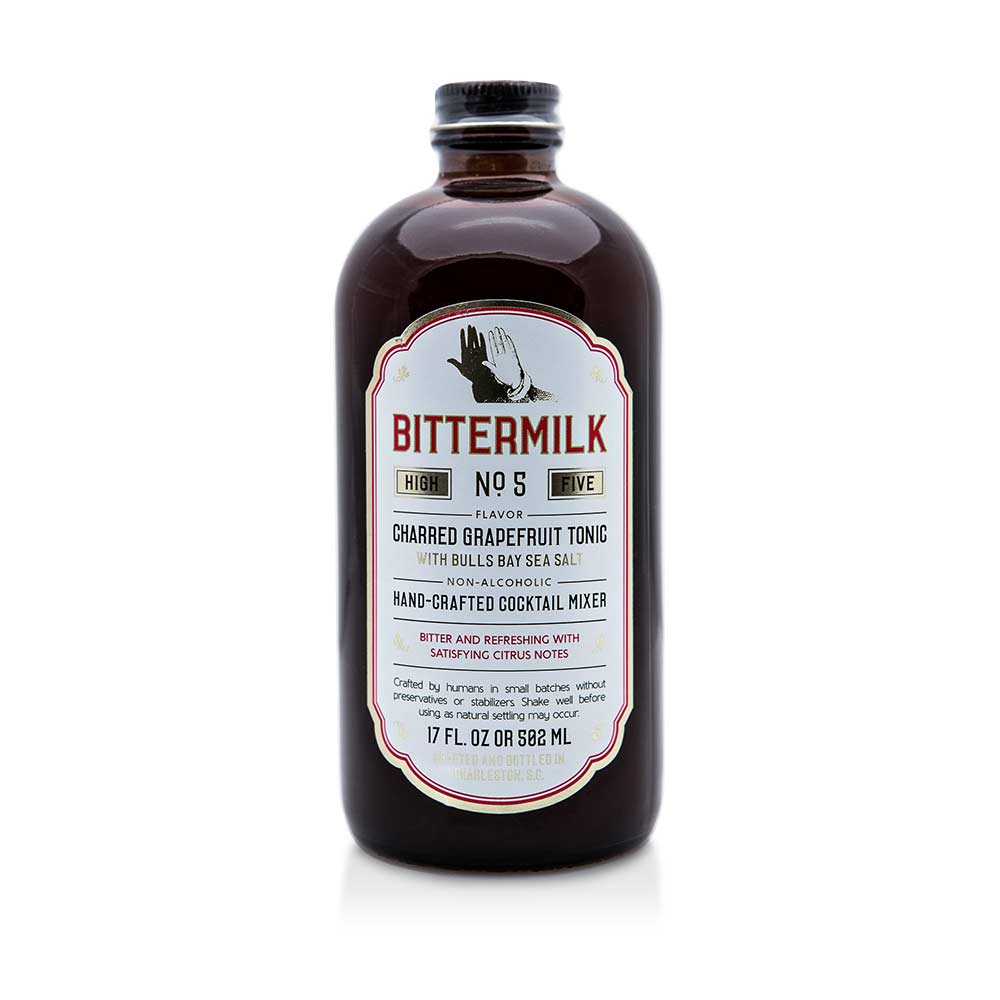 One day you wake up and realize that charred is a good thing. Charred tomatoes, charred peaches, heck, a good char on a burger. So when Bittermilk brings big charred flavor to this awesome tonic it is only natural to drink it up with a splash (or healthy pour) of tequila.
From The Maker:
"Not your typical tonic, the No.5 combines lime and lemon juice with cinchona bark, the source of quinine for tonic. We peel fresh grapefruits and char the skins to help bring out bitter yet refreshing notes. Just a bit of local Bulls Bay Saltworks sea salt helps pull savory caramel notes and rounds out flavor. Works well with any light spirit. Build over ice equal parts No.5 + vodka + soda water in a tall glass. Garnish with a lime wedge."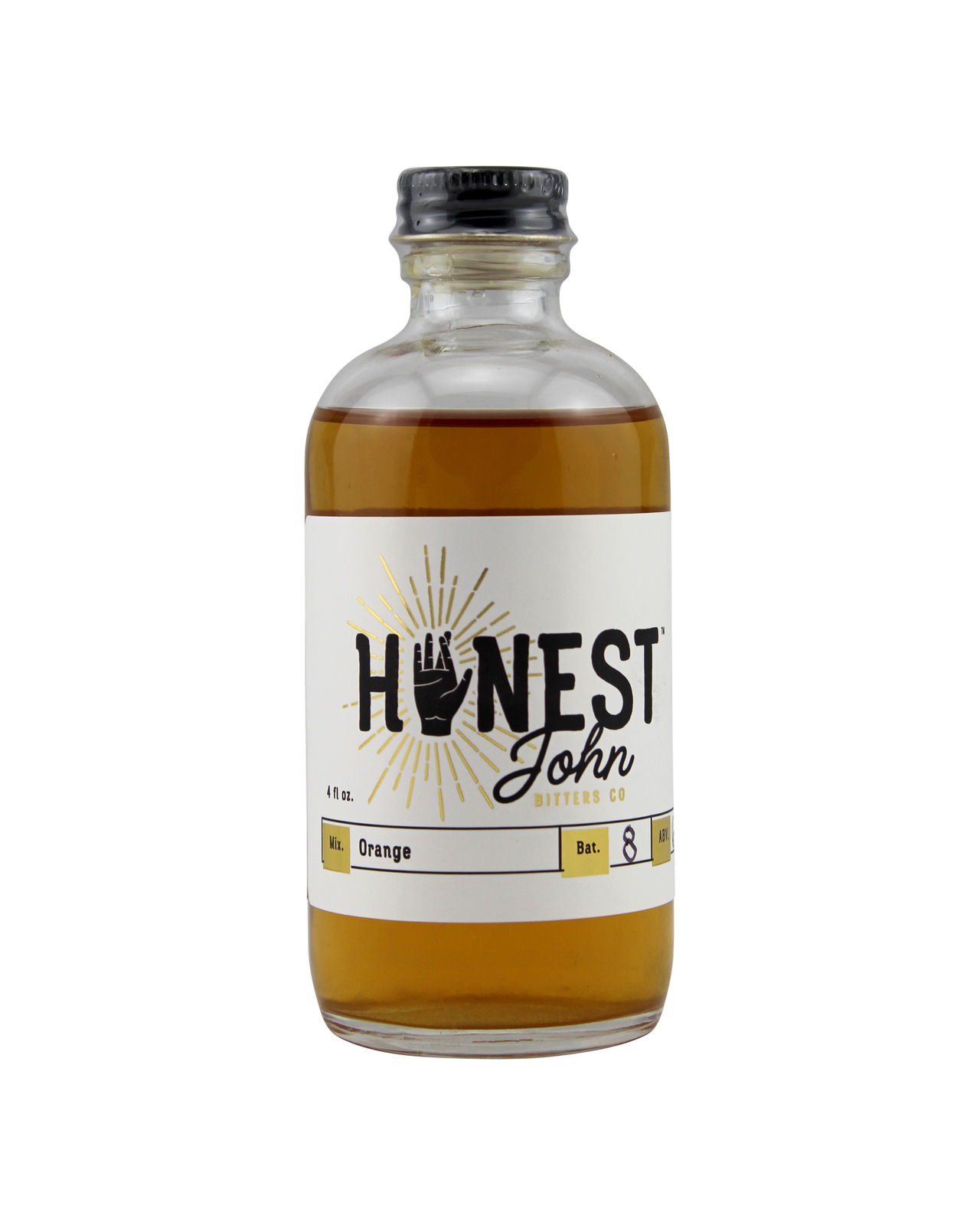 Orange // Honest John Bitters Co.
We dig upgrading Ranch Water aka. tequila, topo chico and lime with bitters to give it a bit more aromatic vibes. Honest John Bitters Co. crafts this orange bitters that smells of the orange field of Siracusa, Sicily and not the cheap tequila you may or may not have bought.
From The Maker:
Notes. Orange. Cardamom. Coriander. Gentian.
Suggested Classic Cocktail. Martini. Old Fashioned.
Suggested Spirit Pairing. Vodka. Gin. Tequila. Rye.

We'll go on record saying rhubarb is criminally underrated as an ingredient. Maybe pickled on a cheese board or stewed down over ice cream, it's versatile and delicious. Need convincing? Girl Meets Dirt has created this shrub that makes Tequila meets Soda much much better. 
From The Maker:
"A 2021 Good Food Awards Winner we're splashing this house favorite all around! Ahhh, the first pink blush of summer! Rhubarb marks the kickoff to harvest season for our kitchen, and our cheeks often match its color as we giddily begin to process the fuchsia stalks. This new addition has been flying off our farmers' market tables and we put the pedal to the metal to make more for you! Whiz it into a marinade for ribs and serve a matching cocktail with tequila or mezcal and a salted rim (may also induce blushing cheeks). Also known to make a mean Rhubarb G&T. Founder Audra's current fav with bourbon, ice, and Plum Bitters."
Ahh the spicy margarita, the siren song of someone insisting they will only have one cocktail. Royal Rose delivers the perfect spice level to elevate your marg to an irresistible potion of joy devoid of deadlines, emails and commitments.
From The Maker:
"Royal Rose Three Chile Organic Simple Syrup starts strong with organic poblano and jalapeño peppers, then the subdued ancho chile takes over for a lasting yet delicate finish.  Aromatic and earthy, this lovely syrup is sure to give your tastebuds a jump for joy! A Good Food Award winner, made from scratch in Newcastle, Maine.  Try it in your next Old Fashioned!"
There may not be another artisan mixer maker doing cooler flavors than Som Cordial. Their Thai Basil is herbaceous and subtle, but from turmeric to tamarind, they don't miss. Tequila and Thai Basil work in everything from a spritz to a Paloma hybrid.
From The Maker:
"Extraordinary herbaceous and floral notes with an incredible scent. "
Thanks for reading! :) If you enjoyed it, share this page. It would mean a lot because it helps other people discover the makers. 

Follow Mantry: Twitter | Facebook | Instagram | Snapchat | Youtube
THE PERFECT GIFT FOR HIM
Give him the gift he really wants - including 6 full-size artisan food products and a custom handmade wooden crate.
give him a gift
GET YOUR MANTRY
We'll deliver the best foods from across the country to your door every two months.
subscribe today