Few things hit the happy button harder than a freshly baked biscuit with the perfect toppings.  We rounded up six of our favorite made in the USA biscuit products that act as a highway to biscuit heaven. 
Buttermilk Biscuits // Callie's Hot Little Biscuit
The Biscuit Bosses out of Charleston, SC have everything from cookbooks to biscuit eateries but you can bring that biscuit on home with easy easy shipping. 
From The Maker:
"A Callie's Hot Little Biscuit is cakey – not flakey! We hand make our buttermilk biscuits with cream cheese to give them their tender, buttery, and tangy taste. You can't go wrong with keeping at least a dozen of our buttermilk biscuits on hand for breakfast, brunch, and entertaining."
Carrot Cake Apple & Walnut Butter // Big Spoon Roasters
Big Spoon churns out impressive flavors from Maple Cinnamon to Pumpkin Spice but the carrot cake with a little butter smear will take your biscuit to the next level.
From The Maker:
"When creating new nut butter recipes, we often find ourselves calling on fond food memories, those dishes seared into our subconscious, creating cravings that never really go away. Among that unforgettable fare is the classic carrot cake, which brilliantly works the sweet spring vegetable into a spiced cake topped with a rich cream cheese frosting. What's not to love?
Made with lightly toasted English walnuts, heirloom Mission almonds, cinnamon, nutmeg, allspice, maple syrup, and Jacobsen sea salt, Carrot Cake Almond & Walnut Butter is like decadent, spreadable carrot cake in a jar, but it's vegan, has no refined sugar, and contains only heart-healthy fats. We recommend adding this nut butter to creamy overnight oats made with tart yogurt and topped with carrot shreds for the full carrot-cake experience."
Buttermilk Biscuit Mix // Blackberry Farm
The Walland, Tennessee institution is one of the country's great culinary destinations but they also make a line for home cooks. This biscuit mix is easy to whip up and is perfect straight out of the oven or with crispy bacon, eggs and a little pimento cheese for the ultimate breakfast sandwich.
From The Maker:
"Here at Blackberry Farm, we serve up what our guests claim to be some of the fluffiest and most mouth-watering biscuits around. The buttery, flakey biscuits even earned a spot on the cover of Garden & Gun magazine! Our Biscuit Mix makes it easy to reproduce your favorite Blackberry Farm biscuits at home. And remember what Momma says:Serve hot - there is nothing better than hot biscuits."
Pretty Spicy Fresno Chili Jam // Inna Jam
Inna Jam has one of the best jam rosters in America, with seasonal offerings like blackberry and Blenheim Apricot. When it comes to biscuit upgrades, look no further than the spicy Fresno chili which works with anything from straight up biscuits to your go-to cheese (we dig goat's cheese or a sharp cheddar).
From The Maker:
"This is the red sibling to our green jalapeño jam. It's similar to the jalapeño jam in terms of heat, but has a fruitier, more rounded flavor. It's an especially pretty jam - when we have different jam samples for people to try, most will reach for this one first - it's shiny and red, a jewel of a jam.

Use this jam as you would the jalapeño jam - with cheeses and meats. Our current favorite way to eat it is in a sandwich with roasted kabocha squash and sharp cheddar cheese. You could also use both the red fresno chili jam and the green jalapeño jam to create a red-and-green jam appetizer for holiday parties."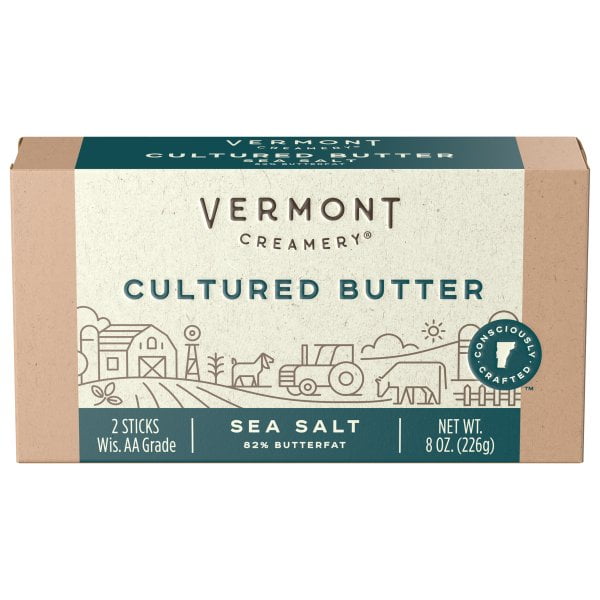 Cultured Butter // Vermont Creamery
Great butter makes a biscuit. We dig European style cultured butter which gives a special twang to your biscuit experience. Vermont Creamery makes this old-school cultured butter that pairs perfectly with any piping hot baked good.
From The Maker:
"What Is Cultured Butter? Our expert buttermakers carefully add live bacterial cultures to fresh Vermont cream. The cream ferments overnight; by morning, it's thickened and wonderful notes of buttermilk and hazelnuts have developed.  ​Making cultured butter is much like making wine, you want to ferment your cream like your grapes, slowly, to produce the best aromas.  The longer you culture — the better."
Smokin' Hot Honey // Asheville Bee Charmer
A drizzle of Hot Honey is the perfect finish to any hot baked biscuit recipe. Mix a little of Asheville Bee Charmer's rendition into whipped butter for a delicious hot honey smear.
From The Maker:
"Smokin' Hot Honey, it's as delicious as it sounds. Pure Raw Honey infused with locally grown North Carolina Applewood Smoked Chipotle Chilies with a dab of Vinegar to create a beautiful Sweet, Smokey, Spicy flavor which is a perfect addition to anything from BBQ to Ice Cream."

Thanks for reading! :) If you enjoyed it, share this page. It would mean a lot because it helps other people discover the makers. 

Follow Mantry: Twitter | Facebook | Instagram | Snapchat | Youtube
THE PERFECT GIFT FOR HIM
Give him the gift he really wants - including 6 full-size artisan food products and a custom handmade wooden crate.
give him a gift
GET YOUR MANTRY
We'll deliver the best foods from across the country to your door every two months.
subscribe today