Meet the "Miracle Tree" - Moringa. For centuries, this wondrous tree has been revered for its bioavailable nutritional properties, and it's no surprise why. Packed with vitamins B, C, D, and E, along with protein, iron, magnesium, riboflavin, and amino acids, Moringa has become the go-to supplement for men who are serious about their health. In this feature, we're delving deep into the world of Moringa, exploring the best supplements on the market. From organic pure Moringa powder packets to Moringa and leafy green supergummies, and Sun Potion organic Moringa leaf powder, we've got the inside scoop on the best Moringa supplements for men.
What are the Benefits of Moringa?
Provides bioavailable nutrients and minerals such as vitamins B, C, D, and E, protein, iron, magnesium, and amino acids
Supports healthy digestion and metabolism
Helps strengthen the immune system
Promotes healthy blood sugar levels
Reduces inflammation and supports joint health
Supports healthy sleep patterns
May aid in improving cognitive function and memory
Contains antioxidants that may help reduce the risk of chronic diseases such as heart disease and cancer
May help to increase testosterone levels in men
May promote healthy prostate function
May improve overall energy levels and athletic performance.
What are the best ways to use Moringa Powder?
Moringa powder is a versatile ingredient that can be added to a variety of dishes and beverages. Here are some of the best ways to use moringa powder:
Smoothies and juices: Add a teaspoon or two of moringa powder to your favorite smoothie or juice recipe for an extra nutritional boost.

Soups and stews: Moringa powder can be added to soups and stews to enhance the flavor and nutritional content.

Sauces and dips: Mix moringa powder into your favorite sauces and dips, such as hummus or guacamole, for a nutrient-packed snack.

Baked goods: Moringa powder can be added to baked goods like muffins, bread, and cookies for a healthy twist.

Salads: Sprinkle moringa powder on top of salads for an extra nutrient boost.

Seasoning: Moringa powder can be used as a seasoning for vegetables, meat, and fish dishes.
Best Moringa Supplements
Sun Potion Organic Moringa Leaf Powder is a convenient way to access a nutrient-dense superfood that has been used for thousands of years due to its rich nutritional properties. The Moringa plant is packed with vitamins B, C, D and E, as well as protein, iron, magnesium, riboflavin, selenium, amino acids and other minerals. Moringa powder has been shown to support healthy nutrition, digestion, and blood sugar and pressure levels, while also reducing inflammation and promoting better sleep. With its versatility, Moringa Leaf Powder can easily be incorporated into a variety of foods and drinks to boost your nutrient and antioxidant intake.
Kuli Kuli Organic Moringa Powder Packets are great for on-th-go! This nutrient-rich, caffeine-free powder is packed with nourishing antioxidants and rivals turmeric in its anti-inflammatory properties. With just one packet, you'll get the equivalent of a full serving of vegetables and 5x the value of a moringa capsule. Plus, Kuli Kuli's Pure Moringa Powder is organic, non-GMO, vegan, and naturally gluten-free, making it the perfect choice for anyone looking to add more nutrients to their diet. Try Kuli Kuli Organic Moringa Powder Packets today and unlock your superpowers!
Kuli Kuli Super Gummies are vailable in three mouthwatering flavors, these superfood gummies make eating healthy a breeze. Packed with a blend of nourishing greens like spirulina, wheatgrass, and kale, as well as sustainably sourced moringa leaves, these gummies provide natural, all-day energy to power you through your day. With 60 gummies per pouch, Kuli Kuli Super Gummies are 100% plant-based, vegan, and free from gluten and gelatin. Plus, with 40% recycled packaging, you can feel good about the impact you're making on the environment. Try Kuli Kuli Super Gummies today and take the first step towards a healthier, more energized you!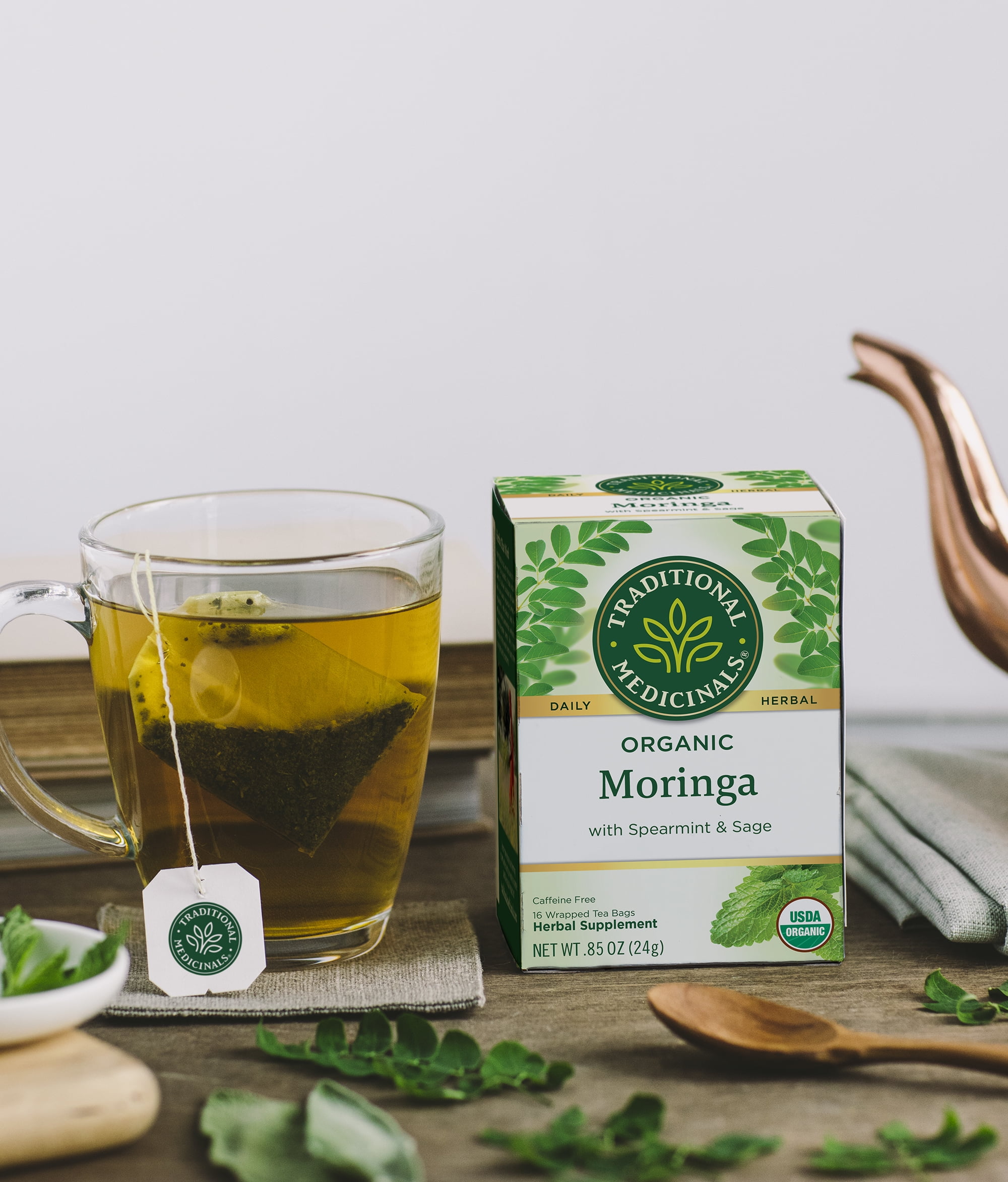 Looking to boost your overall health and wellness and mix in a new tea? Look no further than Traditional Medicinals Moringa Tea. For over 3,000 years, ayurvedic healers have relied on the nutrient-packed moringa plant, also known as "the Miracle Tree." This tea combines moringa with sage and spearmint for a refreshing, minty flavor that's perfect for daily support. With earthy and floral notes, this caffeine-free tea offers a wise, balanced, and refreshing personality, while contributing to a healthier you. Try Traditional Medicinals Moringa Tea today! 
Conclusion:
Moringa supplements offer a range of potential benefits for men looking to improve their overall health and wellness. Whether you're looking for an immune system boost, increased nutrient intake, or better sleep, there is a Moringa product out there for you. The three product types we've highlighted in this post - organic pure Moringa powder packets, Moringa and leafy green supergummies, and organic Moringa leaf powder - are all excellent choices to consider when incorporating Moringa into your daily routine. Give them a try and see the positive impact they can have on your health.
THE PERFECT GIFT FOR HIM
Give him the gift he really wants - including 6 full-size artisan food products and a custom handmade wooden crate.
give him a gift
GET YOUR MANTRY
We'll deliver the best foods from across the country to your door every two months.
subscribe today