Sure, ice cream on its own is almost perfect but a little hit of special sauce can upgrade it even further.  From whiskey caramel to hot fudge here are 7 toppings from a handful of the best small-batch makers in America.
Coop's Hot Fudge // Coop's MicroCreamery
Every great old-school ice cream parlor has to have a hot fudge sundae and Coop's helps bring that experience home. The packaging is only outdone by the quality of the product inside. 
From The Maker:
"COOP'S MicroCreamery® Original Hot Fudge is an over-the-top, award-winning chocolate experience begun in Boston and enjoyed all over the world. Our founder Marc Cooper was on a quest for a truly delicious, all-natural chocolate topping: something produced with no chemicals, with all ingredients being processed as gently as possible. It took years of travel, research, and experimenting to get all the right ingredients (there are just six of them) and perfect the formula but the mouthwatering result speaks for itself.
Made in small batches using only the finest European chocolate and local dairy ingredients, our Hot Fudge is a one-of-a-kind chocolate experience."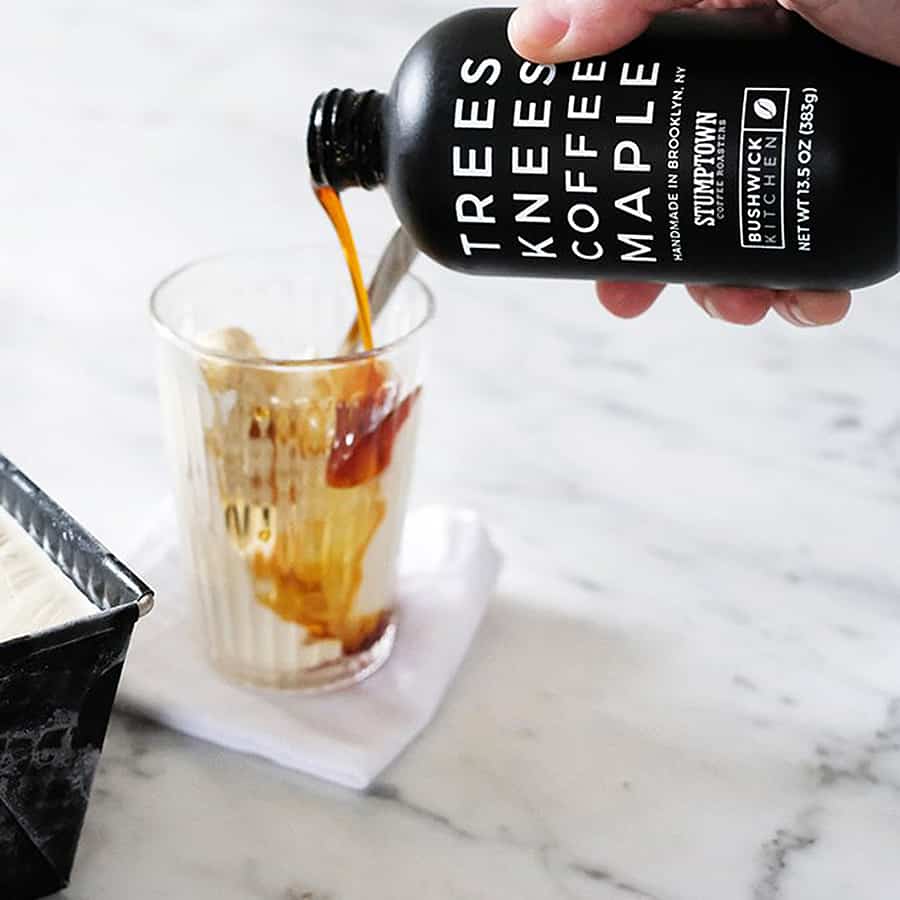 Trees Knees Coffee Maple // Bushwick Kitchen
Fold it in marble slab style or drizzle it over the top but Bushwick Kitchen's Coffee Maple wakes up any bowl of ice cream.
From The Maker:
"Rich maple syrup from the Catskill Mountains is infused with Stumptown Coffee Roasters Hair Bender Blend, creating multidimensional tasting notes of dark chocolate, cherry, toffee, and fudge. "
Candied Bacon Kit // The Baconer 
Sweet, meaty candied bacon crumbled over ice cream with a drizzle of honey or caramel? Oh yes.  Move a breakfast favorite to dessert and never look back.
From The Maker:
"Introducing our new Candied Bacon Rub Kit, complete with 3 jumbo packages of our legendary Maple Sugar XXL Bacon Steaks or 3 packages of Maple Sugar Small Batch Strips! With this kit, make your own millionaire's bacon or candied bacon at home! Candied Bacon Rub takes any bacon from a beloved snack to a truly spectacular delicacy, encrusted with brown sugar, black pepper and a touch of heat from crushed red California Chilies. Sweet, spicy and bursting with umami-rich flavor, this is sure to be a new favorite."
Rye Whiskey Caramel Sauce // Hot Cakes
Sure you can have an after dinner drink or you can go with a splash of Whiskey in your after dinner dessert. 
From The Maker:
"Hot Cakes Limited Edition Rye Whiskey Caramel Sauce is delicious stirred into coffee, poured over ice cream, eaten straight with a spoon and with fresh or caramelized bananas!"
Chocolate Hazelnut Butter Spread // Fine & Raw
Like Nutella but better for you and 10x tastier. You can slather this spread on an ice cream sandwich or mix it into good vanilla for a frozen treat.
From The Maker:
"Basically the best thing you could ever eat with a spoon. The world's best cacao and the world's best hazelnuts combine into a totally addictive spread. For ice cream, waffles, strawberries, and especially for eating straight out of the jar!"
Cacao Solar Grown Honey Spread // Clif Family
Sweet, chocolatey and perfect when heated up and drizzled over a bowl of comfort. 
From The Maker:
"Two simple ingredients come together to create a rich and decadent spread that highlights the complex flavors of cacao balanced with a light touch of sweetness from the honey.  Spread on toast with a sprinkle of sea salt or drizzle on vanilla ice cream.
Clif Family Solar Grown™ Honey Spreads are a blend of raw honey and spices that are gently spun together to encourage natural honey crystals to form and create a smooth and creamy appearance. The result is a delightfully flavorful honey spread."

Meyer Lemon Curd // Lemon Bird Provisions
A zippy twist on an ice cream topping. This is probably the best dang lemon curd in the nation and it packs a tasty twang when spooned over ice cream.
From The Maker:
"This fresh and delicious curd is made using Meyer Lemons in the peak of season. Created in small batches with fresh butter, eggs and sugar, the texture is unrivaled. Indulge yourself or serve at brunch to impress family and guests."
Thanks for reading! :) If you enjoyed it, share this page. It would mean a lot because it helps other people discover the makers. 

Follow Mantry: Twitter | Facebook | Instagram | Snapchat | Youtube
THE PERFECT GIFT FOR HIM
Give him the gift he really wants - including 6 full-size artisan food products and a custom handmade wooden crate.
give him a gift
GET YOUR MANTRY
We'll deliver the best foods from across the country to your door every two months.
subscribe today