Ginkgo biloba, a popular herb, has been used for centuries in traditional medicine to promote brain health and improve cognitive function. Today, it's also a popular ingredient in dietary supplements, often combined with other natural ingredients to provide men with various health benefits. With so many options on the market, it can be challenging to choose the best ginkgo biloba supplement for men. In this blog post, we'll take a closer look at some of the top-rated ginkgo biloba supplements available and highlight their unique features and benefits. From boosting mental clarity and concentration to supporting healthy blood flow and circulation, these supplements can help men improve their overall health and wellbeing. So, if you're looking to add a ginkgo biloba supplement to your daily routine, keep reading to discover some of the best options out there.
What is Ginkgo Biloba?
Ginkgo Biloba is an herbal supplement that is derived from the Ginkgo Biloba tree, which is one of the oldest living tree species on earth. The tree is native to China, Japan, and Korea and has been used for thousands of years in traditional medicine. Ginkgo Biloba supplements are made from the leaves of the tree and are used to improve cognitive function, memory, and concentration. The active compounds in Ginkgo Biloba are believed to help increase blood flow to the brain and protect against oxidative stress, which can damage brain cells. It is also sometimes used to improve circulation and treat other conditions such as tinnitus and anxiety.
What are the potential benefits of Ginkgo Biloba?
Improve cognitive function, including memory, attention, and concentration
Alleviate symptoms of anxiety and depression
Reduce inflammation and oxidative stress in the body
Improve circulation and blood flow, particularly to the brain and extremities
Could potentially help with symptoms of tinnitus and vertigo
Has neuroprotective effects and support overall brain health
Best Ginkgo Biloba Supplements
Life Extension Ginkgo Biloba is a vegan and non-GMO supplement that is concentrated and dual-standardized to deliver the bioactives that make ginkgo such a powerhouse for cognitive health. With 24% ginkgo flavone glycosides, 6% total terpene lactones, and <1ppm ginkgolic acid per dose, the extract has been studied extensively for its ability to promote healthy cognition and memory recall. Additionally, Ginkgo Biloba Certified Extract encourages healthy blood flow to the brain, helping to maintain optimal quality of life.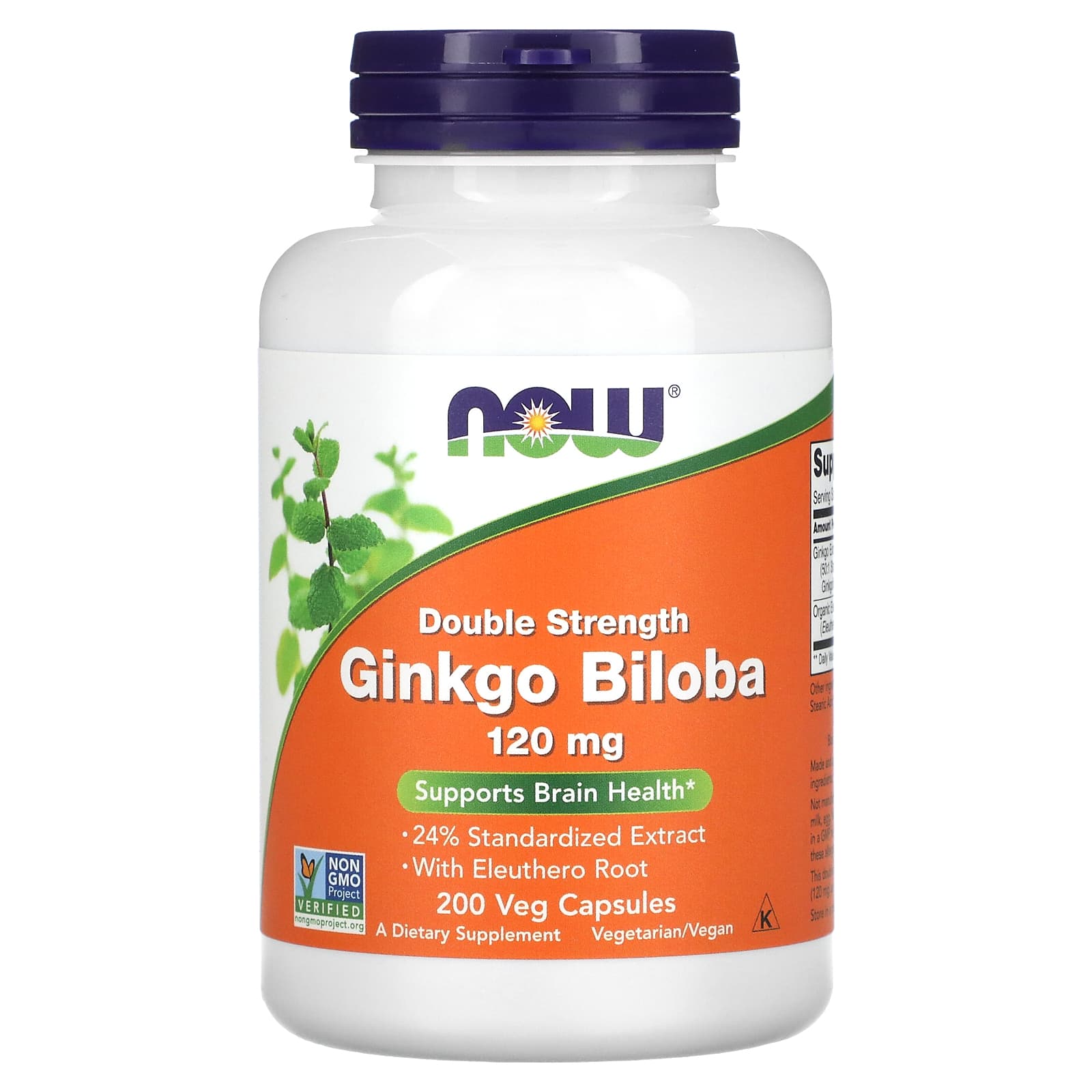 Looking for a way to boost your brain power and improve cognitive function? NOW Foods Ginkgo Biloba may be the answer. With double the ginkgo and a potent 24% standardized extract, this supplement is scientifically designed to support memory recall and overall brain health. Not only is it certified non-GMO and vegan, but it's also free from common allergens like soy, gluten, and dairy. Quality is assured with NPA A-rated GMP certification, meaning you can trust every aspect of the manufacturing process. 
For thousands of years, ginkgo leaf has been valued for its health benefits. Traditionally used in Chinese medicine to support the respiratory system, ginkgo is now highly regarded for its cognitive function support. Gaia Herbs Ginkgo Leaf is a pure, potent and organic source of this ancient herb. It promotes recall, recognition memory, reaction time, attention, concentration, and energy levels. Gaia Herbs uses only organic methods to cultivate their plants and maintains transparency throughout their production process. As a Certified B Corporation, Gaia Herbs is committed to building a more inclusive and sustainable world.
Thorne Memoractiv is a powerful nootropic supplement designed to support optimal brain function and cognitive health in a modern, tech-driven world. With a unique blend of six well-studied botanical extracts and nutrients, Memoractiv promotes concentration, motivation, mental focus, and reaction time. Its ingredients also help reduce cortisol levels and fight the effects of stress, while protecting the eyes from the negative effects of blue light. Memoractiv is perfect for millennials, Gen-Xers, aging baby boomers, students, athletes, gamers, performers, or anyone looking to unlock their brain's full potential. With clinically proven effectiveness, Memoractiv's key ingredients including Ashwagandha, Gingko Phytosome, Lutemax 2020, Pterostilbene/Caffeine, Acetyl-L-Carnitine, and Bacopa Extract offer a range of benefits to support your cognitive and mental health.
Qualia Mind is packed with 28 ingredients, including ginkgo biloba, each chosen for their synergistic properties in enhancing cognitive function. By supporting the production of key neurotransmitters and pathways critical for optimal brain function, Qualia Mind can help support long-term cognitive health and improve memory and brain health as you age. 
Conclusion:
Incorporating a high-quality Ginkgo Biloba supplement into your daily routine can be a game-changer for your cognitive health. By improving blood flow to the brain, enhancing memory, and reducing inflammation, Ginkgo Biloba can help support brain function and overall well-being. The five supplements discussed in this post are some of the best options available, each with their unique strengths and benefits. Always consult with your healthcare provider before starting any new supplement regimen, and choose a supplement that fits your individual needs and preferences. With the right Ginkgo Biloba supplement, you can experience improved cognitive function and better brain health.
THE PERFECT GIFT FOR HIM
Give him the gift he really wants - including 6 full-size artisan food products and a custom handmade wooden crate.
give him a gift
GET YOUR MANTRY
We'll deliver the best foods from across the country to your door every two months.
subscribe today