When it comes to a monthly box for men, the best ones usually focus on one thing and do it well.  Over ten years running Mantry, we have seen a lot of men's food subscription gifts and services, here are some of the best.
*We independently review everything we recommend. When you buy through our links, we may earn a commission.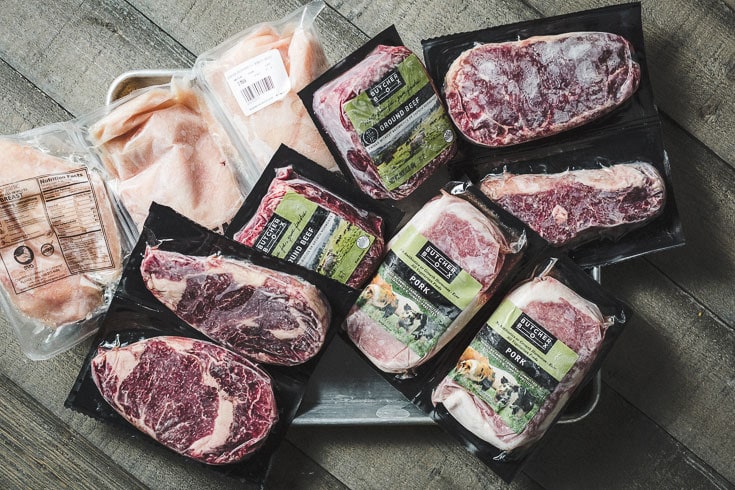 A lot of people have mixed or even negative reviews on Butcher Box type services. Isn't Costco cheaper than Butcher Box?  Why don't you just go to a local butcher? Is anyone that busy they need hamburger meat delivered?  Do you really get free bacon for life? These are good questions, here are our opinions about Butcher Box.
What is Butcher Box?
As the site says:
"ButcherBox is a meat subscription that delivers 100% grass-fed beef, free-range organic chicken, humanely raised pork, and wild-caught seafood across the USA."
Wait, What Does That Mean, Is Butcher Box Even Worth It? 
You can sign up to a variety of Butcher Box plans and get pretty reliable meat delivered to your door. Of course, tracking down a "local" butcher box is going to always be best to support local butchers, farmers and genuinely not make a big footprint on ol' Mother Earth if you're into that. But for many people, a program like Butcher Box or Porter Road is going be the most hassle-free and often cheapest meat delivery service. There are plenty of Butcher Box Reviews online and we encourage you to do the classic google search of "is butcher box worth it reddit" if you want the details but genuinely speaking Butcher Box is a solid good mail-order meat service for:
1) Feeding A Family (think growing teenage boys).
2) Keto & Paleo fitness folks with a heavy meat diet who want to "eat clean and train dirty" or whatever they say.
3) People who don't care about specific cuts, they just want to have meat in the freezer.
It's not really for a more gourmet type who wants to go chat up their local British Butcher and talk the intricacies of picanha steak or how much chuck to fat ratio their burger patty should have. 
PS: It also makes a great gift as a one time meat delivery box, for this you can also try Omaha Steaks and Snake River Farms.

Alcohol subscription boxes are tricky, a lot of them suck and many booze subscription services don't actually send alcohol (just mixers and garnishes).  The crafty wife and husband team came up with the idea to start SaloonBox after many frustrating experiences trying to recreate craft cocktails at home. Each monthly kit hooks you up with two curated cocktails including the spirits, non-perishable ingredients and instructions on how to make them. Another quick tip, their blog also has many, many delicious recipes!
We can't actually include a list of the best food subscription boxes for men without a self gloss.  Mantry doesn't send much steak or booze or wine but we're sure as heck going to help any guy discover the best small-batch American made food products in the USA.  Whether that is stone ground mustard from the mountains of Vermont or the best tonic syrup from Charleston or the top barrel aged hot sauce from Texas.  Mantry is a unique food subscription box that works hard to curate the American craft food scene in a handmade wooden crate. 
More and more men are putting down the pale ales and picking up the pinot. Finding a good Wine Club for guys can be daunting as there are thousands of Wine Subscriptions on the internet.  All we can say is that Wine Awesomeness offers an updated take on the stodgy old wine club and it's an easy wine gift for men. They send wine and stories from all over the world with a refreshing voice for a younger generation. Themes cover everything from the Iberia Peninsula to South Africa to Sunday Night TV.
Bonus:
Never underestimate the power of any type of Coffee Subscription or Japanese Candy Subscription.
THE PERFECT GIFT FOR HIM
Give him the gift he really wants - including 6 full-size artisan food products and a custom handmade wooden crate.
give him a gift
GET YOUR MANTRY
We'll deliver the best foods from across the country to your door every two months.
subscribe today