Cooking sprays offer a convenient and healthy alternative to traditional oils, allowing for easy application and controlled portions. With so many options available, it can be difficult to know which cooking spray to choose. That's why we've compiled a list of the 5 Best Cooking Sprays in 2023, featuring top brands like BetterBody Foods and La Tourangelle, to help you make an informed decision and take your cooking game to the next level.
Best Ways To use Cooking Spray:
Here are some of the best ways to use healthy cooking spray:
Use it to coat pans before cooking to prevent food from sticking
Use it to lightly spray over vegetables or meats before roasting or grilling to help with browning and caramelization
Use it to add a light coating of oil to salads, without adding too many calories
Use it to grease baking pans or muffin tins for easy removal of baked goods
Use it to replace oil or butter in recipes to make them healthier and lower in calories
Use it to add flavor to dishes, by choosing sprays infused with herbs or spices
Use it to reduce the amount of oil needed in recipes, making them healthier and more nutrient-dense.
Why is Cooking Spray Convenient?
Cooking spray is incredibly convenient and easy to use, allowing you to apply a precise amount of oil with just a few sprays.
It eliminates the need for messy measuring cups or pouring oil from a bottle, saving you time and effort in the kitchen.
Using cooking spray reduces the amount of oil needed to prepare your food, making it a healthier option than traditional cooking methods.
The compact size of cooking spray cans makes them easy to store in your pantry, taking up minimal space compared to large bottles of oil.
Cooking spray can be used on a variety of cooking surfaces, such as pans, grills, and baking sheets, making it a versatile tool for any cook.
Best Cooking Sprays (Ghee, EVOO, Avocado Oil & Duck Fat)
From Ghee Butter to Extra Virgin Olive Oil to 100% Pure Avocado Oil you have many options of what you want to spray in you cooking.  Here is our roundup of the best for each category.
Best Ghee Butter Cooking Spray

Introducing 4th and Heart Ghee Spray - the perfect everyday cooking oil that's both healthier than butter and easy to use. Made from a unique blend of grass-fed ghee, avocado oil, and cold-pressed, refined grapeseed oil, this Non-GMO spray offers a high smoke point of 485ºF and a rich, buttery taste. It's also perfect for baking and sautéing. What's more, this ghee oil retains all the natural health benefits of ghee, making it a great addition to any diet. Order your 5 oz spray today and elevate your cooking game!
Best Avocado Oil Cooking Spray:
Avocados are known for their high levels of antioxidants and monounsaturated fats, which can help improve heart health and lower cholesterol levels. This spray is 100% pure and naturally refined, with no dilution or added chemicals. It is also free from propellants, gluten, soy, and canola oil, making it a healthy option for those on a Paleo or Keto diet. With a smoke point of up to 500°F, it can be used for various culinary applications like baking, high-heat cooking, sautéing, and frying. Its neutral flavor makes it a versatile ingredient in any dish. Try Chosen Foods Avocado Oil Spray for a healthier and delicious cooking experience.
BetterBody Foods Avocado Oil Spray offers a convenient way to cook, bake, and sauté with a neutral flavor that can enhance any dish. This all-purpose cooking spray has a high smoke point of 500°F, making it perfect for frying, baking, and sautéing. With no additives, it delivers a clean flavor and is non-GMO and gluten-free, making it perfect for those following keto and paleo diets. BetterBody Foods is committed to natural, simple ingredients and offers a range of avocado oil-based products, including pure avocado oil, spreads, dressings, and more, so you can taste the difference in your cooking.
Best Duck Fat Cooking Spray: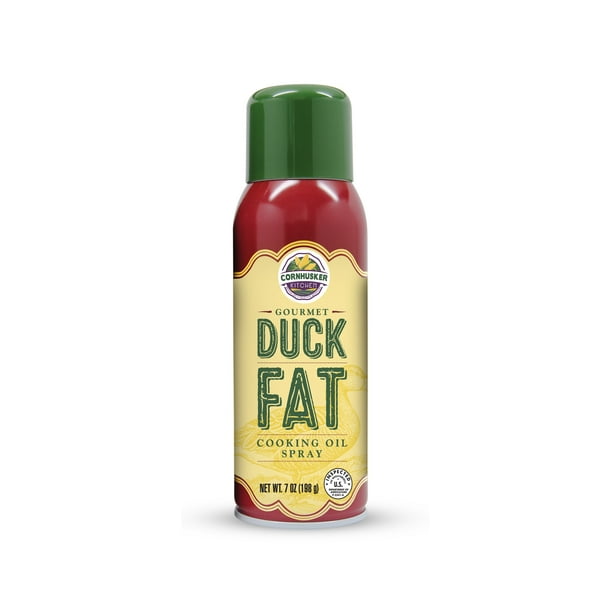 Cornhusker Kitchen Gourmet Duck Fat Spray Cooking Oil is a healthy alternative to traditional cooking oils. Derived from French cuisine, duck fat has been linked to the "French Paradox," where people consume meats and fats but have lower reported heart problems than Americans. This gourmet cooking spray is all-natural, GMO-free, and gluten-free, making it perfect for those with dietary restrictions. With a high smoke point, it is safe and easy to use for all your cooking needs. It is also high in unsaturated fat, with 20% less saturated fat than butter. This product is made of 100% recyclable material, and it is reusable with a long shelf life. Made in the USA, it's the only duck fat spray available in the world!
Best Olive Oil Cooking Spray:
La Tourangelle Extra Virgin Olive Oil Spray is a pure, artisan oil in spray form that is chemical-free and alcohol-free, providing you easy application and quality you can taste. This 100% Organic Extra Virgin Olive Oil is cold-pressed for perfection and has a well-balanced, intense, and fruity flavor with hints of freshly cut grass, almond, and a bright peppery finish. The oil is versatile and perfect for salads, grilled meat, pasta, or a cheese plate. La Tourangelle is dedicated to making carefully crafted, sustainable, and natural products, making it a great addition to your kitchen for creating healthy and delicious meals.
Conclusion:
Cooking sprays are an essential tool in any kitchen for healthy and convenient cooking. With the variety of options available on the market, it can be challenging to choose the best one for your needs. We hope our list of the five best cooking sprays in 2023 has helped you make an informed decision. Remember to always read the label and choose a spray that meets your dietary and cooking needs. Happy cooking!
THE PERFECT GIFT FOR HIM
Give him the gift he really wants - including 6 full-size artisan food products and a custom handmade wooden crate.
give him a gift
GET YOUR MANTRY
We'll deliver the best foods from across the country to your door every two months.
subscribe today